Oct. 05 - Oct. 16, 2016
Wednesdays-Sundays
In the Red and Brown Water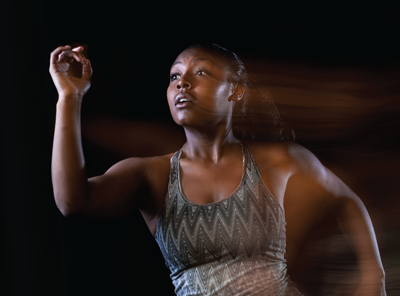 By Tarell Alvin McCraney
Directed by Charles O. Anderson and Robert Ramirez
"A work of rare lyricism." — The New York Times
How far will Oya go to make a mark in the world? A young runner with boundless possibilities, Oya is forced to choose between her ailing mother and her own dreams. This intoxicating movement-infused theatre work charts a young girl's thrust into womanhood and her subsequent fall into the murky waters of life.
Premiered in 2008 at Atlanta's Alliance Theatre, In the Red and Brown Water is one of three plays in Tarell Alvin McCraney's acclaimed trilogy The Brother/Sister Plays. "I lived in the other America, the America that doesn't always get depicted in the cinema. The America that we are told to pretend isn't there, " shares playwright Tarell Alvin McCraney. "And in an attempt to create theater that told untold stories, that gave voice to another half of America, I created The Brother/Sister Plays."
In the Red and Brown Water contains mature themes and adult language.
About the Playwright
Tarell Alvin McCraney's plays include Wig Out! (developed at Sundance Theatre Lab, produced in New York by the Vanguard Theatre and in London by the Royal Court) and the trilogy entitled The Brother/Sister Plays, including: The Brothers Size (simultaneously premiered in New York at the Public Theater and in London at the Young Vic where it was nominated for an Olivier Award for Outstanding Achievement at an Affiliated Theatre); In the Red and Brown Water (winner of the Kendeda Graduate Playwriting Competition, produced at the Alliance Theatre and the Young Vic) and Marcus, or the Secret of Sweet. His other plays include Without/Sin and Run, Mourner, Run (adapted from Randall Kenan's short story), both of which premiered at Yale Cabaret.
McCraney received a B.F.A. in Acting from DePaul University and is a 2007 graduate of the Yale School of Drama's playwriting program, headed by Richard Nelson, where he also received the Cole Porter Playwriting Award upon graduation. He is the Royal Shakespeare Company's international writer in residence, the 2009 Hodder Fellow at Princeton University, the recipient of the 2007 Paula Vogel Playwriting Award and the 2007 Whiting Award. In 2008, McCraney was the recipient of the London Evening Standard's Award for Most Promising Playwright.
About the Directors
Charles O. Anderson, a native of Richmond, Virginia, is head of the dance program and producing artistic director of the B.F.A. dance company, Dance Repertory Theatre at The University of Texas at Austin as well as artistic director of the critically-acclaimed afro-contemporary dance theatre company, dance theatre X (founded in 2003). He received his M.F.A. in Dance from Temple University (2002) in Philadelphia where he lived previously. Among his achievements in afro-contemporary choreography and dance theatre, Anderson was selected as one of "25 Artists to Watch" by Dance Magazine and is a Pew Fellowship in the Arts recipient. His choreography, set upon undergraduate students, has been nationally showcased twice at the John F. Kennedy Center for the Performing Arts through the American College Dance Association and he has also been recognized for outstanding achievement in experimental dance theatre by the Kennedy Center American College Theatre Festival.
Robert Ramirez is the head of the acting program at Texas Theatre and Dance at The University of Texas at Austin. He has served as a voice and text director for numerous theatres and university productions including the Illinois Shakespeare Festival, the Krannert Center for the Arts, Austin Shakespeare and American Players Theatre. He has performed as an actor with the New York, Utah, Great River, Illinois, Alabama, Baltimore and Wisconsin Shakespeare Festivals as well as numerous theatres in New York City. Most recently, he served as voice and text director for the world premiere of The River Bride at the Oregon Shakespeare Festival. He has been an award-winning voice artist and narrator of audio books for the past 19 years and is a long-time member of the Recorded Books Repertory Company in New York City. Ramirez received his M.F.A. in Acting from the Professional Theatre Training Program at the University of Delaware and is a proud member of the Voice and Speech Trainers Association.
---
In the Red and Brown Water
by Tarell Alvin McCraney
University of Texas Theatre & Dance
Wednesdays-Sundays,
October 05 - October 16, 2016
October 5 - 16, 2016
Oscar G. Brockett Theatre
$15.00 - $26.00
Preview Performance: October 5 at 7:30 p.m.
Opening Performance: October 6 at 7:30 p.m.
Additional Performances: October 7-8, 11-14 at 7:30 p.m. and October 8-9, 16 at 2:00 p.m.
Parking Information
The university requires all faculty, staff, students and visitors to pay for parking on campus. Please be aware when you come to a performance that UT parking has changed and new signage has been posted in regards to the changes. All parking on campus – both ADA and non-ADA requires a permit or payment of fees – this does include the ADA on Robert Dedman Drive. Patrons to the Texas Performing Arts complex are encouraged to park in university parking garages or LBJ surface lots.
A discounted parking rate of $6 can be purchased on-line at: https://utcofaparking.clickandpark.com/venue. The discounted parking is only available online until 10pm, the day prior to an event. Please read signs carefully. $12 Event Parking is also available for purchase in person on the day of your event at the entrances to the surrounding surface lots and garages.
Parking FAQs can be found here: http://www.clickandpark.com/faq.shtml