Mar. 27 - Mar. 29, 2015
Friday-Sunday
Cora is a twelve year-old girl on an exciting field trip to visit a historic gold rush town in northern California. But when her best friend she's expecting to see never appears, Cora finds herself in a totally new frontier: rough, wicked, and bizarre. Partnered with the dark adventures of Judah, a virtuous gold miner in 1849, Enter a Woman, Pretty Enough performs the wild west's past, present and future. Bar fights, camp fires, taffy, and booze make up this history of man's ruthless, wild appetite for expansion even well after all the gold's been seized and the girls long gone.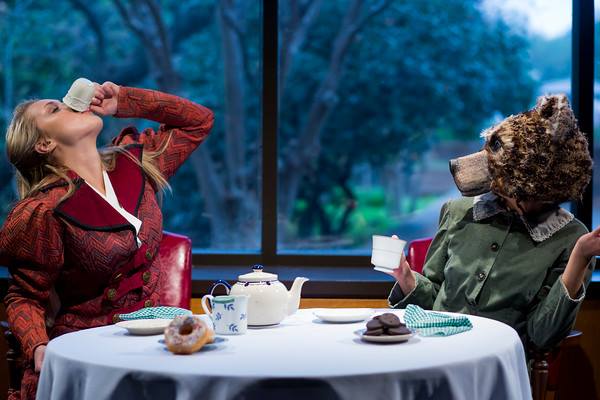 About the Playwright
Diana Lynn Small writes, acts, and directs for the stage. She is a songwriter and singer. Diana's a M.F.A. candidate in the Michener Center for Writers at The University of Texas at Austin focusing on playwriting and poetry. She's made new theatre with UT Austin (Good Day, Suspicious Dinner, Be Still and Know Nothing), Westmont College (Muéveme Muévete, Beauty Bomb, They Must Be Wings, Jupiter I Love You, Songs for Girls, Hunting is for Lovers), Theatre Masters (Dogfight), the Santa Barbara Museum of Art (We're Still Kids), Ratatat Theater Group (Nina in the Morning), FronteraFest (Mad & a Goat) and ZACH Theatre (Dream: A Midsummer Forrest Tour). Diana was an artist in residence at Tofte Lake Center in Ely, MN in 2014. She's a member of the Lit Moon Theatre Company. Diana returns to stories about the American West, past and present. She grew up in Martinez, California, three miles south of the Shell Oil Plant and three miles east of the John Muir Historic House.
About the Director
Jess Hutchinson is a theatre director and dramaturg who loves new plays and lives in Austin, Texas. She is currently pursuing her M.F.A. in Directing at The University of Texas at Austin, where she has had the pleasure of collaborating with many whip-smart playwrights on projects like 'ratio, Lyla School, 70 Secrets of Marmalade Kittens, and 100 Heartbreaks. Also at the university, she directed A Streetcar Named Desire and Dead Man's Cell Phone. Jess spent five years as artistic director of Chicago's New Leaf Theatre, where her favorite productions were a mix of world premieres and re-imagined classics, including Arcadia, Burying Miss America, The Man Who Was Thursday, and The Dining Room. jesshutchinson.com
Photos by Lawrence Pearl
---
Enter A Woman, Pretty Enough
by Diana Lynn Small
University of Texas Theatre & Dance
Friday-Sunday,
March 27 - March 29, 2015
March 27, 28, April 2, 3 at 7:30 pm
March 28, 29 at 2 pm
Admission is free. Seating is limited.
Parking Information
The University requires all faculty, staff, students, and visitors to pay for parking on campus. Please be aware when you come to a performance that UT parking has changed and new signage has been posted in regards to the changes. All parking on campus – both ADA and non-ADA requires a permit or payment of fees – this does include theADA on Robert Dedman Drive. Patrons to the Texas Performing Arts complex are encouraged to park in university parking garages or LBJ surface lots. A discounted parking rate of $3 can be purchased on-line at: https://utcofaparking.clickandpark.com/venue. The discounted parking is only available online until 10pm, the day prior to an event. Please read signs carefully.