Nov. 02 - Nov. 26
Thursdays-Sundays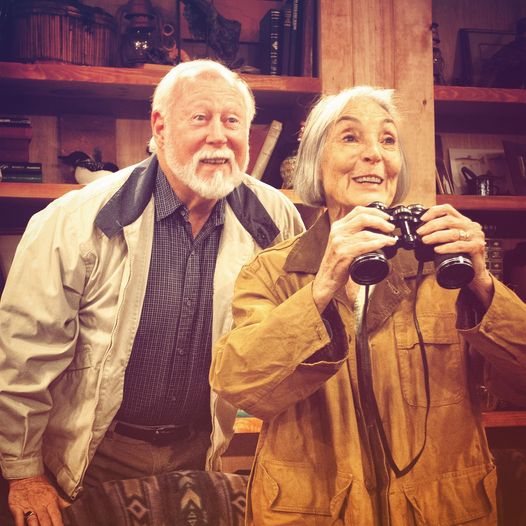 A soul-stirring play that explores love, aging, and family bonds, all while shedding light on the challenges of Alzheimer's disease.
The show is the first title in The Classic's sixteenth season which features the theme Welcome Home.
"On Golden Pond is a play that holds a special place in the hearts of many, not only because of the success of the 1981 film adaptation but also because of its universal themes that continue to resonate with audiences of all generations. This play reminds us that family bonds can be tender and complex, encouraging us to appreciate life's simple yet profound moments." — Director Anthony Ciaravino
Feature by Kurt Gardner at ArtScene SA, October 20, 2023
Set on a serene New England lake, On Golden Pond by Ernest Thompson follows the Thayer couple, Norman and Ethel, as they navigate the challenges of growing old, including Norman's underlying battle with Alzheimer's. With humor and tenderness, this timeless play reminds us of the enduring power of love and the importance of forgiveness in the backdrop of a picturesque summer retreat, making it a touching and memorable theatrical experience.
On Golden Pond celebrates the continued contributions of vibrant theater artists 65 years and older to our community and features the work of four Classic Theatre of San Antonio founding members, Allan Ross, Terri Peña Ross, Diane Malone, and Anthony Ciaravino.
The Classic Theatre is thrilled to have the Alzheimer's Association as their community spotlight partner for this production to help spread awareness about the impact of Alzheimer's and Dementia on the community.
The cast for On Golden Pond includes:
Allan S. Ross as Norman Thayer
Terri Peña Ross as Ethel Thayer
Tony Campbell as Charlie Martin
Christi Eanes as Chelsea Thayer Wayne
Mark Riojas as Bill Ray
Grant Tuder as Billy Ray
Gypsy Pantoja as Operator
The creative team for On Golden Pond includes:
Costume Design by Diane Malone
Scenic Design by Alfy Valdez
Lighting Design by Pedro Ramirez
Properties Design by Jessica McMichael
Sound Design by Frederica Kushner
The play is directed by Anthony Ciaravino.
---
On Golden Pond
Classic Theatre of San Antonio
Thursdays-Sundays,
November 02 - November 26, 2023
November 2 - 19, 2023; Performances added on Nov 25 and 26, 2023
7:30 p.m. on Thursdays, Fridays, and Saturdays, and 2 p.m. on Sundays
Cellar Theatre, Public Theatre, 800 West Ashby Place, San Antonio, TX 78212
The Classic Theatre will offer some exciting community nights such as a Champagne Opening Night, Pride Night, ASL Night, and an exclusive Virtual Talkback with Academy Award winning playwright Ernest Thompson. To find out when each of these special nights is taking place visit this link.
Tickets for The Classic Theatre of San Antonio in the Cellar Theater are $39 (Adult), $35 (Military, Older Adults 60+, First-Responders), and $24 (Students) are available online at www.classictheatre.org or by phone at (210) 589-8450. The Cellar Theater is wheelchair accessible.
Get tickets here (https://www.classictheatre.org)