Sep. 09 - Sep. 26
Thursdays-Mondays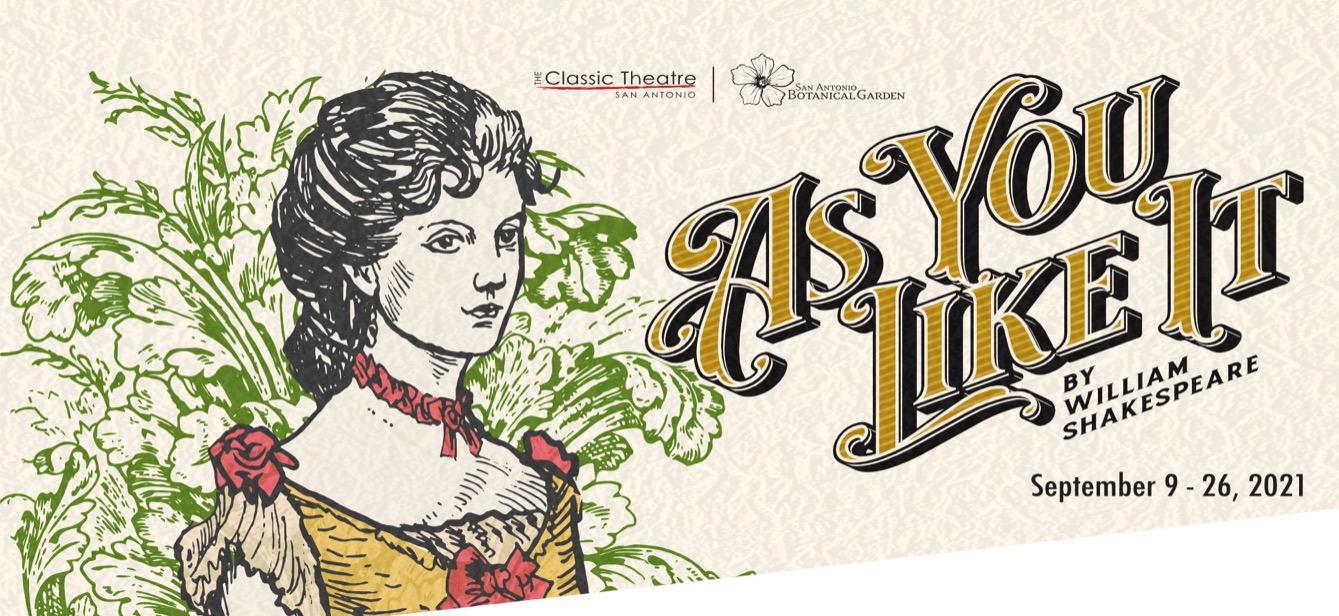 As You Like It
by William Shakespeare
directed by Nick Lawson
Rosalind's uncle is placed on the throne and she is immediately banished from court. With her best friend and uncle's daughter, Celia, by her side, she runs into the forest of Arden for refuge, only to catch the lovesick eye of another banished youth named Orlando. The result is a hilarious conglomeration of cross-dressing, foolery, melodic songs, questionable poetry, and laughs aplenty. Will love always win or are we merely mad? As You Like It is an entertaining and touching exploration of life, death, love, family, and the bonds that tie us together.
Kurt Gadiner of ArtsScene SA interview director Nick Lawson, September 1, 2021
Cast
Kacey Roye – Rosalind
Josey Porras – Celia, Amiens
Eddie Morfin Jr. – Orlando, Sir Oliver Mar-text, William
Hunter Wulff – Touchstone, 1st Lord
Randee Nelson – Jaques, Charles, Corin
Adam Ochoa – Silvius, Oliver, Jacques De Boys
Natalie Blackman – Duke Frederick, Duke Senior, Audrey
Emit Quintero – Phoebe, Adam, Le Beau
---
As You Like It
by William Shakespeare
Classic Theatre of San Antonio
Thursdays-Mondays,
September 09 - September 26, 2021

September 9-26, 2021
Performances on Thursdays, Fridays, and Sundays at 7:30 pm, with the exception of a performance on Monday, September 20, and no performance on Thursday, September 23.

Performed at San Antonio Botanical Garden555 Funston Place, San Antonio, TX 78209