The Secret Lives of Gamers and Dead Astronauts
by Hyde Park Theatre
Aug. 06, 2021
Friday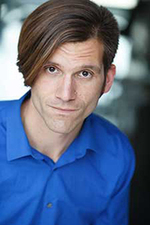 Five years ago, Corey's astronaut sister died on an expedition to Mars. Now his brother Carl searches Antarctica for meteorites while his best friend Lexington tries to revolutionize Public Access Portland. Corey is stuck streaming games from his basement over Twitch when a mysterious stranger from another planet begins to play along. The play has received 15-20 hours of work with a director, dramaturg and actors.
Briandaniel Oglesby writes some plays for teenagers and some plays for mature audiences. His work has been read or developed at JAW (Portland Center Stage), Playwrights' Week at the Lark, B Street Theatre, Cap Stage, SF Playhouse, Queensbury (Houston), Emory University, Ground and Field (UC Davis), James Madison University, and the Kennedy Center. His Brothers Sisters, Santos was named as one of the Best Unproduced Latin@ Plays by 50PP.
His adaptation of The Jungle Book is available via Stage Rights. He is an alum of the Hyde Park Theatre Writers Group, where he developed his play, Piper. He now runs a theatre department at Skybridge Academy, where he develops collaborative techniques for new play development and writes plays for his students. He believes "Theatre for teens should be awesome--it should be art!"
---
The Secret Lives of Gamers and Dead Astronauts
by Briandaniel Oglesby
Hyde Park Theatre
HPT 2021 NEW PLAY WORKSHOP: PUBLIC PERFORMANCE FRIDAY, AUGUST 6, 2021
Briandaniel Oglesby's The Secret Lives of Gamers and Dead Astronauts, HPT's selection for our 2021 New Play Workshop, will receive a public workshop production at 8:00pm on Friday, August 6, 2021. The performance is free, and all are welcome!
Check here more information about the playwright and event.