Dec. 06 - Dec. 15, 2019
Fridays-Sundays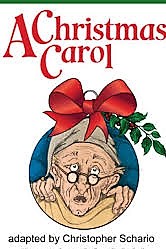 Scrooge is coming! The Paradox Players present the immortal classic 'A Christmas Carol' by Charles Dickens adapted for the stage by Christopher Schario.

This reader's theatre production with choreographed staging is told through the eyes of two young children who will bring the memorable Dickens' characters to life.

This production has an outstanding cast of actors including John Meadows as Scrooge along with seven other actors each playing a variety of characters from Bob Cratchit, and Tiny Tim to the Spirits of Christmas Past, Present and Future. Directed by Barbara Abbate.

Written in 1843 when he was only thirty-one, Dickens writes A Christmas Carol as a homily about the personal transformation of a crusty old curmudgeon. Ebenezer Scrooge comes face to face with his own dark brooding soul, and the impact of his cold and angry behavior. He accepts the wisdom of the Christmas spirits; liberates his own good nature, and is thus able to enjoy the delights of a laughing heart till the end of his days.
---
A Christmas Carol
by Adapted from Dickens by Christopher Schario
Paradox Players
Fridays-Sundays,
December 06 - December 15, 2019
Performances will be held in the Sanctuary of the First UU Church on December 6 & 7 and Dec 13 & 14 at 8 pm and December 8 & 15 at 3pm at the First Unitarian Universalist Church at 4700 Grover & 49th Streets in Austin.
Opening Night tickets are $20, $15 seniors, $10 students and $5 children 12 and under. All other shows $15, $10 for seniors & students, and $5 children 12 and under.
For reservations or more information call 512-744-1495, or go to paradoxplayers.org.