The Lion, the Witch and the Wardrobe
by MAD Productions
Nov. 15 - Nov. 23, 2019
Fridays-Saturdays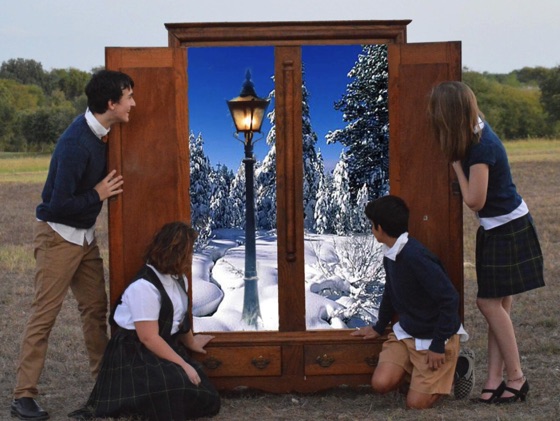 Step through the wardrobe this Winter into the magical kingdom of Narnia for the most mystical of adventures in a faraway land. Join Lucy, Edmund, Susan and Peter as they wave goodbye to wartime Britain and say hello to a talking Faun, an unforgettable Lion and the coldest, cruelest White Witch.
This new dramatization of C.S. Lewis's classic, set in the land of Narnia, faithfully recreates the magic and mystery of Aslan, the great lion, his struggle with the White Witch, and the adventures of four children who inadvertently wander from an old wardrobe into the exciting, never-to-be-forgotten Narnia. The intense action features chases, duels, and escapes as the witch is determined to keep Narnia in her possession and to end the reign of Aslan.
All the memorable episodes from the story are represented in this exciting dramatization: the temptation of Edmund by the witch, the slaying of the evil wolf by Peter, the witnessing of Aslan's resurrection by Susan and Lucy, the crowning of the four new rulers of Narnia, and more. This story of love, faith, courage, and giving, with its triumph of good over evil, is a true celebration of life.
Photos by Henry Huey at Austin Statesman, November 18, 2019
🦁ASLAN - Kendra Christel
🧙🏼‍♀️WHITE WITCH - Tessa Demings
👨🏼‍🏫PROFESSOR - David Woodfin
👧🏻LUCY - Emma Putman
👦🏻EDMUND - Joseph Gallegos
👧🏼SUSAN - Madison Elliot
👱🏻‍♂️PETER - Francois Le Galle
🐿MR.BEAVER - Ryan Putman
🐿MRS. BEAVER - Michelle Putman
🦄UNICORN - Tess Colby
☂️TUMNUS - R. Michael Clinkscales
🐺🐺FENRIS ULF - Andre Demings
🐺Wolf Lieutenant - Chloe Heater
🦹🏼‍♂️DWARF - Avery Thomas
🎅🏻FATHER CHRISTMAS - Moses Katz
🧝‍♀️ELF - Beverly Conner
🐴WHITE STAG - Senna Godbold
🐆CHEETAH - Jenna Thomas
🐿SQUIRREL - Joslyn Godbold
🧚🏼‍♂️DRYAD - Ava Baker
🦅EAGLE - Katie Poag
🦊FOX - Ava Herbrandson
🐰RABBIT - Maddy Edwards
🧟‍♀️OGRE - Amira Abul-Hosn
🐱🐹🐰Narnia Ensemble🦊🐻🐼 Shannon Anderson Cade Steel Mario Dena Jana Aldalawy Beverly Conner George Small Selena Garcia Taylor Sessoms Trevor Wyatt
Solon Johnson
🧚‍♀️🧚🏼‍♂️🧚‍♀️Wood Nymphs Ensemble🧚‍♀️🧚🏼‍♂️🧚‍♀️
Dance Captain - Senna Godbold Marley Smith Molly Lippert. Abby Fulwider Karmen Aldaco Ava Baker Haile Aldaco
🐭🐭🐭Mouse Ensemble🐭🐭🐭
Laura Van Ryn Emmalee Artus Abigail Thomas Jahnni Schulz
---
The Lion, the Witch and the Wardrobe
by Adapted by Joseph Robinette from the C.S. Lewis novels
MAD Productions
Fridays-Saturdays,
November 15 - November 23, 2019
The Lion, the Witch and the Wardrobe will have its first performance on November 15th, 2019 and will run for two weekends. Tickets are on sale today at https://www.madproductionsrr.com/shows. T November 15-23, 2019
Fridays 7:30pm; -Saturdays 2:30pm & 7:30pm
PERFORMANCES WILL TAKE PLACE AT
CD Fulkes Middle School
300 W Anderson Ave, Round Rock, TX 78664
All Presale Tickets $15.00/ $20 at the door
**** SPECIAL DISCOUNT RATE for groups of 10 or more are $10 a ticket. Email info@madproductionsrr.org to take advantage of this offer.****
For Tickets and More Information - WWW..MADPRODUCTIONSRR.ORG