Nov. 09 - Nov. 18, 2017
Thursdays-Saturdays
Central Texas' well-known children's theatre company, Pollyanna Theatre, a resident company of the Long Center for the Performing Arts, is presenting Chicken Story Time – An Interactive Theatre Experience for Very Young Children, written and based on the award-winning book by Sandy Asher.
Created for children 2 – 4 years old, Chicken Story Time invites Pollyanna Theatre's youngest patrons to enter an imaginary library where a very frazzled librarian faces many new and unexpected patrons at her weekly story time. When more and more chickens stumble into story time each week, the librarian ends up with more kids and critters than she knows what to do with. Luckily, she comes up with a creative solution and manages to find a little R & R for herself. Through puppets and play, this wonderfully hilarious story will simultaneously entertain and teach children the days of the week, number recognition, and creative problem solving.
Pollyanna Theatre Company is the first to bring 'Theatre for the Very Young' (TVY), a variety of theatre work and practices intentionally designed for children under the age of 6, to the Central Texas region. TVY engages children through a visual and physical style of performance merged with elements of dramatic play. Professional actors perform and invite children to participate, providing a bridge for them to use their natural instincts to engage in dramatic play. For many children, Pollyanna's "Play and Play" series will be their first exposure to a formal theatre experience. The leaders of Pollyanna hope that these productions are a great introduction to a childhood that is rich in audience experiences.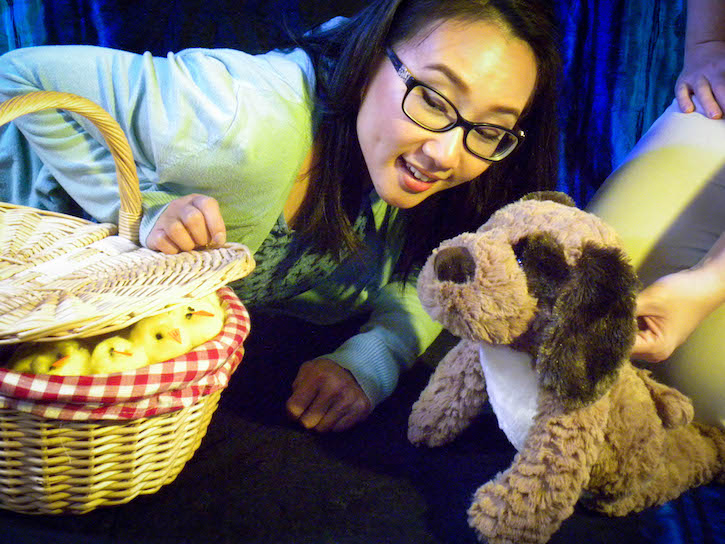 The production stars Uyen-Anh Dang, Bethany Harbaugh and Allison Huston with direction by Bethany Lynn Corey, sound design by Andrew Perry, set design by Chase Staggs, and costume design by Bethany Lynn Corey and Judy Matetzschk-Campbell.
ABOUT POLLYANNA THEATRE COMPANY: The founders of Pollyanna Theatre Company believe that theatre is a powerful teaching tool that speaks to people of all ages in a unique and powerful way through a variety of visual, aural, and emotional languages. Therefore, theatre should be a part of all general education from preschool through adulthood. Toward that end, The Pollyanna Theatre Company strives to work alongside educators to inspire, motivate, and teach audiences of all ages. Although the company's primary focus is upon young audience members, the ensemble performs top quality theatrical productions that speak to and illuminate the human spirit and condition for all ages. www.pollyannatheatrecompany.org
ABOUT THE PLAYWRIGHT: Sandy Asher, a playwright and children's author, is best known for her young-adult novels and other prose works for young readers. Drawing many of the ideas and characters for her writings from her childhood memories, Asher has earned critical praise and numerous awards for novels such as Just like Jenny, Things Are Seldom What They Seem, and Everything Is Not Enough. In addition to fiction, Asher has also edited the story collections On Her Way: Stories and Poems about Growing up Girl and the award-winning With All My Heart, with All My Mind: Thirteen Stories about Growing up Jewish, which collect works that address many of the same adolescent concerns Asher confronts in her fiction.
---
Chicken Story Time
by Sandy Asher
Pollyanna Theatre Company
Thursdays-Saturdays,
November 09 - November 18, 2017
November 9 – 11 and 16 – 18 at 9:30 and 11:00 a.m.
AT&T Conference Room in the Long Center for the Performing Arts
701 W. Riverside Dr., Austin, TX 78704
TICKETS: Tickets are $6.75 – seating is limited to 40 children per performance. Discounts available for groups of 10 people or more, call (512) 743-7966 or email pollytheatre@gmail.com.
Tickets may be purchased by calling (512) 743-7966 or online by visiting https://www.brownpapertickets.com/event/2977067.