Mar. 02 - Apr. 01, 2017
Thursdays-Saturdays
The week after Thanksgiving. A bed & breakfast in Gettysburg, Pennsylvania. A cheerful innkeeper. A young couple struggling to stay together. Thousands of inanimate objects, watching.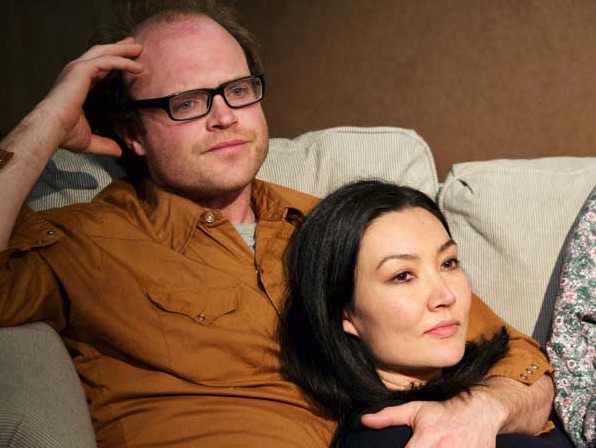 A simple enough description, but Annie Baker's fascinating play takes a look at what theatre can be and builds a world all its own. Baker's hyper-realism bleeds into the eerily super-natural in this quiet tale, where actors and audiences alike delve into ideas of self, mortality, and the solitude of human experience.
Featuring Katherine Catmull, Lana Dieterich, Catherine Grady, and Zac Thomas.
Blurb for American Conservatory Theatre's February 2017 production:
A haunting story that took off-Broadway by storm, John is the latest hit from American theater's hottest new voice—2014 Pulitzer Prize winner Annie Baker (The Flick). Jenny and Elias show up at an old bed-and-breakfast in Gettysburg, Pennsylvania—he wants to tour the historic battlegrounds, she wants to be left alone. But in the creaking house they find something unsettling. Is it the spirits of the Civil War dead? The smiling dolls that line the rooms? Or their curious landlady, Mertis, who switches their bedroom because "the Jackson Room can be a little temperamental"? A delicious nerve-jangler hailed as "a true masterpiece!" (Slate), this is a visceral ghost story with a millennial twist that will haunt the intimate Strand Theater.
From Samuel French:
REVIEWS
"Annie Baker's John is so good on so many levels that it casts a unique and brilliant light." - The New Yorker, Read More
"Ms. Baker...stretches her talents in intriguing if sometimes baffling new directions." The New York Times, Read More
"Baker is trying to extend to characters in extremis the intense realism — not stage realism but real realism — usually denied them in plays." - Vulture, Read More
"When it comes to playwriting, [Baker] is astonishingly clear-eyed. In John, her new play at the Signature Theatre, one character is blind and another wears glasses with a very strong prescription, but they both benefit from Baker's excellent vision." The Guardian, Read More
"Baker knows exactly what she's doing — she gives us just enough to open up possibilities. What a thrill!" - New York Post, Read More
"Baker does not merely tell a scary story. She shows them, piling up like ghosts of amputated limbs from the war wounded, and makes them riveting, unpredictable, altogether human theater." - Newsday, Read More
---
John premiered at the Signature Theatre in New York City in August of 2015 under the direction of Sam Gold.
---
John
by Annie Baker
Hyde Park Theatre
Thursdays-Saturdays,
March 02 - April 01, 2017
John runs at 8:00 PM on Thursdays, Fridays, and Saturdays, March 2 - April 1, 2017.Thursdays are Pay What You Can Nights at the door. For the first four weeks (March 2 - 25), Friday tickets are $22 and Saturday tickets are $24. For the final weekend (March 30 - April 1), Friday tickets are $24 and Saturday tickets are $26.
Tickets are $2 off for students, seniors, military, and Austin Creative Alliance members.
OR CALL (512) 479-PLAY (7529) FOR RESERVATIONS.