Review: The Wars of Heaven: Smackdown! by Trouble Puppet Theatre Company
by Michael Meigs
Connor Hopkins, artistic diector of Trouble Puppet Theatre Company, takes on the whole of Catholic theology and the idiocy of contemporary media. With puppets. So how can you resist?
The first part of Connor's meditation, The Wars of Heaven, Part 1 in May, 2015, challenged audiences to soar in the skies and across the centuries, using John Milton's imaginative cosmology as expressed in the company's familiar bunraku style augmented by some impressive shadow puppetry. CTX Live Theatre stood in awe, as reported in a review by Michael Meigs and another by Dr. David Glen Robinson.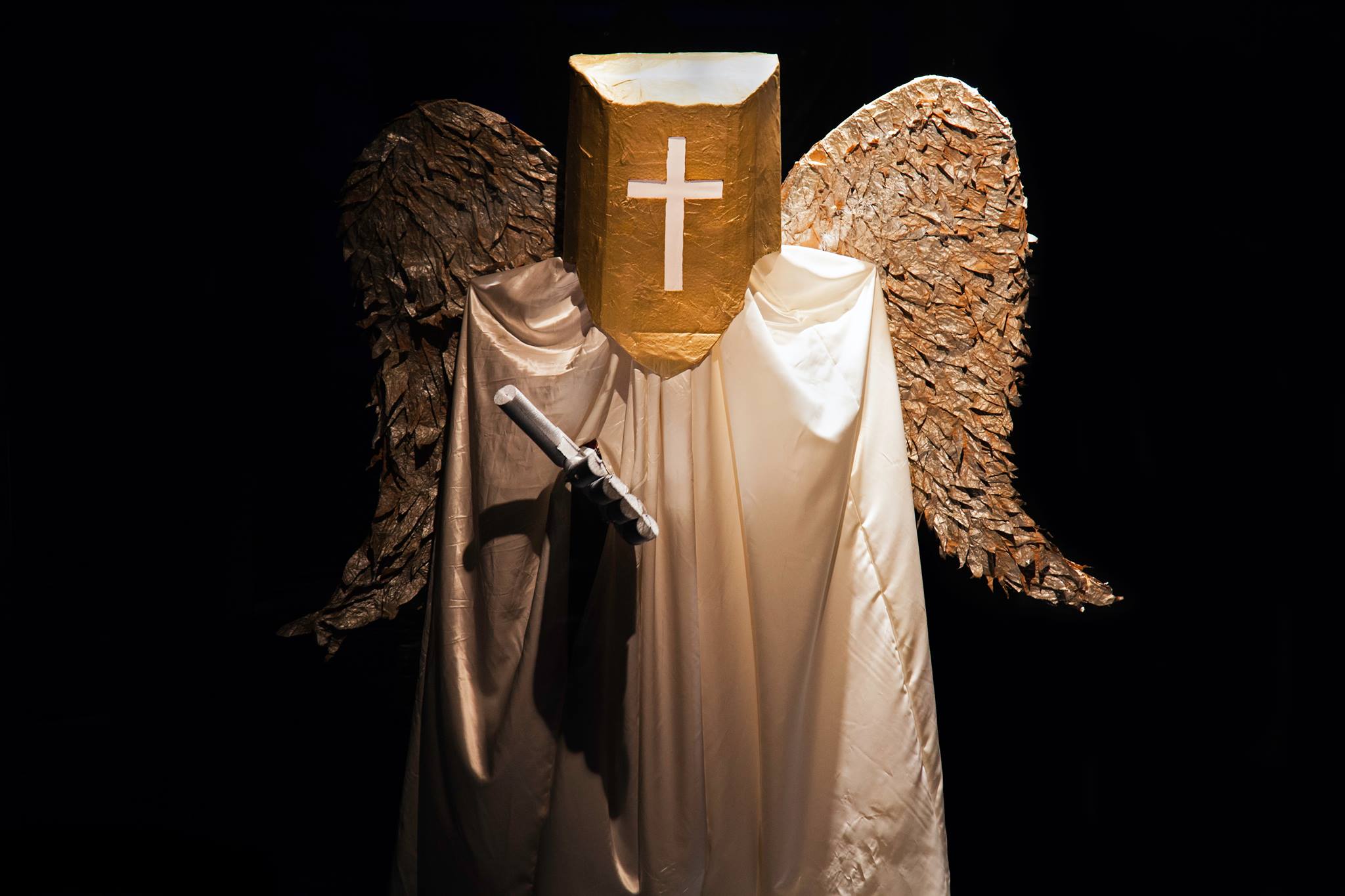 With his restless intellect and constant striving for novel modes of figurative artiistic expression, Hopkins and his faithful acolytes have mounted a new series of marvels in Smackdown! - Wars of Heaven, Part 2. It's a triumph in puppetic extension, acknowledged by Hopkins' humble and appreciative note in the program. Trouble Puppet has ventured successfully into puppet giants and into mounted warrior puppets. The plot and the narrative thread are less clear, obscured by the enormous amount of information assaulting the audience.
Hopkins does the contest between heaven and its rebeling angels as a World Wrestling Federation smackdown. After you settle into your seats at the Salvage Vanguard you're informed by a hyper hysterical announcer that you're there for the next contest in a sequence reaching back 10,500 years, and the prize for the winner is the sum of mortal souls of the audience ("As stipulated in the fine print of your tickets!"). From that point forward you're going to be triply besieged: the representative of Heaven is a towering puppet, perhaps eight feet tall, with a helmet that blinks and an enormous beckoning hand, while the representative of the opposition is at first a mere human woman exchanged subsequently for an impressive red-lit Garantua. This is a duel, folks, with adversaries debating theological questions while their representatives fight to the death.
On one level Hopkins pitches the conundrura of theological debate: e.g., why does the Creator allow bad things to happen to good people? The relatively shallow debate across the stage is drowned out by the cries and distress of two mounted puppets obliged to combat one another gladiator-style. They're ingenious contrivances with the human puppeteers wearing the beastly mounts like trousers on a pair of suspenders while voicing the puppet rider that's directly in front. Gricelda Silva is Rabbit, who wins through a series of bouts despite Rabbit's distress and incomprehension of the whole process. And those bouts are overridden by the 'hot' media (using Marshall McLuhan's terminology) of a wild assortment of video clips projected at high stage center, drawing mostly from the stupidities of television culture.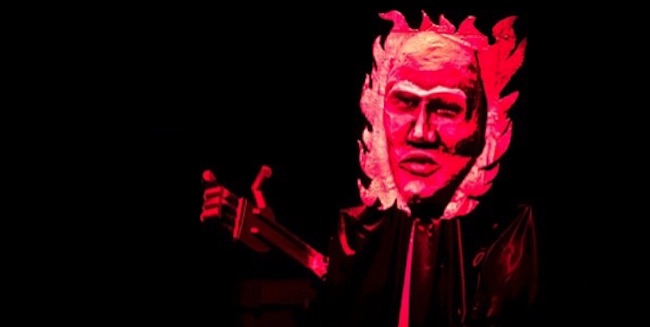 The wild-voiced announcer tells you that this contest is going to do twelve bouts. Rabbit and adversaries make their way through five or six, with a lot of desperation and shouting. Rabbit, after a series of random victories, yells that 'they' (heaven and the rebels) are making us do this, and we have to break free. Somehow the sequence is interrupted and the looming adversaries collapse, to be revealed as nothing but puppets. Puppeteers stumble onstage, clamoring to one another, confused and uncertain what to do.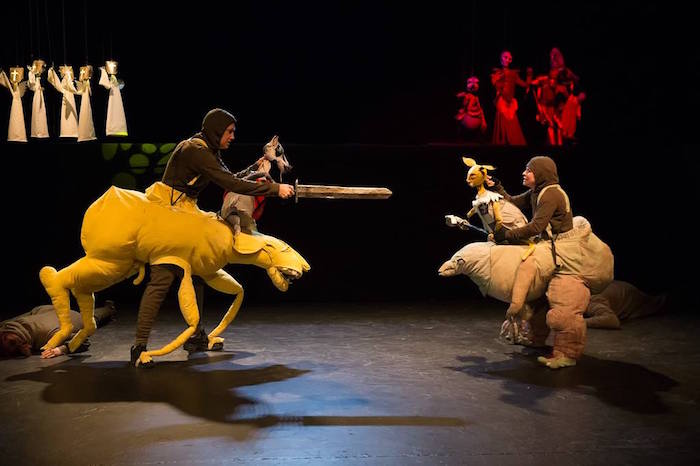 Hopkins' ingenuity and inventiveness has outrun his story telling skills. There's an important message here: our understanding of good and evil, right and wrong, is distorted by the ancient outmoded templates of credulous and simplistic Christian faith. But there is so much noise in the multiple levels of performance that the show becomes spectacle, very much like the Roman gladiator bouts that WWF is mimicking.
The noise and distraction delivered with triplication of media obscure the Trouble Puppet thesis. And the sudden interruption of the twelve-bout sequence confused the opening-night audience, who found a curtain call taking place after only half of the promised bouts. Some of us lingered uncertainly in our seats, wondering whether we'd gotten to the end or only to an unannounced intermission.
Connor Hopkins and the intrepid artists gathered around him are an invaluable resource for this town and for all devotees of art that escapes the clutches of large-scale commercialism. They challenge the comfortable and advocate for the disadvantaged, for the ordinary and for those who believe that art needs to be personal and ethical. Smackdown is ambitious, and it takes on too many perceived evils at once. See it, by all means, and meditate upon it as you wait to see what this restless genius is going to come up with for Part III of the Wars of Heaven.

EXTRA
Click to view the program sheet for Smackdown! The Wars of Heaven, Part II.
---
The Wars of Heaven: Smackdown!
by Connor Hopkins & the ensemble
Trouble Puppet Theatre Company
Thursdays-Sundays,
April 21 - May 15, 2016

April 21–May 15, 2016 (8 pm Thu–Sat; Sun shows at
5 pm
)
WHERE: Salvage Vanguard Theater, 2803 Manor Road, Austin, TX 78722
Tickets: $15 general admission, $12 students, seniors, vets, $25 & $50 support levels available; group rate $10 available via