Review: The House on Haunted Hill by Weird City Theatre
by David Glen Robinson
Weird City Theatre has just opened its long-awaited new production, House on Haunted Hill, at Ground Floor Theatre on Austin's east side. The show is something old and something new, a new stage adaptation (perhaps the only one) of the 1959 Vincent Price movie of the same name produced from the screenplay by Robb White. Today's stage adaptation is by Robert L. Berry, a stalwart, multi-talented member of Weird City Theatre and other regional companies. Overall production of the show is by Patti Neff-Tiven, and it is directed by Jenni Bauer.
Weird City Theatre in Austinfocuses on the horror and science fiction genres.Their last stage show was Grotesque and Arabesque: Poe Retold, a collection of stage-adapted short stories by Edgar Allan Poe, excellently realized. Further back, the company gained recognition for multiple stagings of George Romero's world-changing Night of the Living Dead. With House on Haunted Hill, Weird City Theatre reasserts its primacy as a purveyor of the frisson of horror. Ah, fear!
House on Haunted Hill is a brilliant work precisely because it doesn't know what it wants to be—ghost story, slasher film, or crime drama/mystery. Pitching its audience into confusion on this issue is the vehicle for the terror it ladles out generously. The audience doesn't know what to expect minute-by-minute.
The plot outline of House on Haunted Hill is similar to that of Agatha Christie's Ten Little Indians. Each in a group of strangers accepts the challenge offer of a large sum of money from a mysterious rich man if they survive being locked overnight in a mansion haunted by murderous ghosts. That's it; simple but deadly. Desperation heightens as the character list shrinks.
Austin theatre veteran Craig Kanne as property owner Watson Pritchard leads the cast and the audience through the details of the story premises and all the dark corners of the mansion, itself very much a lead character in the show. Beware the steaming acid vat in the basement. Kanne's character is a staggering rentier drunk who makes the audience wonder how many quarts his pocket flask and he can hold. Pritchard also takes pride of place in enacting the horror cliché of holding a candelabrum high while leading a character group through a mansion in a power blackout. Plastered but clear in the head, Kanne's Pritchard serves the structural role of exposition while uttering dire, unheeded warnings that set the audience on the path to fear. As a character with clouded, alcoholic perceptions, Pritchard establishes a blind-leading-the-blind leadership style that is ultimately illuminating. Only actors with Kanne's skills can convey these subtleties and contradictions Kanne makes it all look fun, and he is not above the occasional bizarre, unexplained scythe-fight.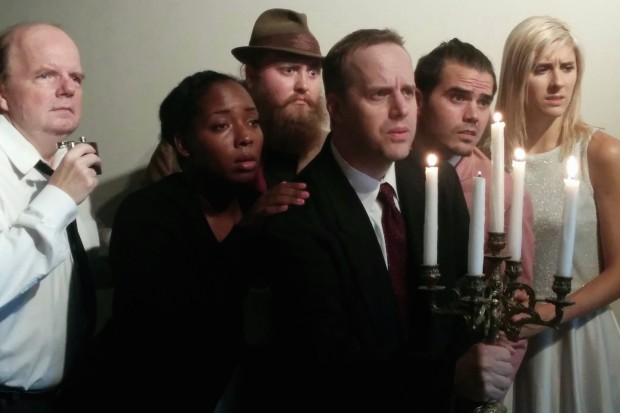 The remaining cast is talented, hard-working, and well-coordinated in running up and down Jim Schuler's precariously high, multi-tiered set. Some of the intermittent elocution problems may be laid off to the height of the set, where spoken lines drift away above the audience.
Ian Prikryl plays the wealthy Frederick Loren with a depth of cynicism that is almost vampiric. Chris Romani plays Annabelle Loren, Frederick's disaffected wife; Ms Romani is to many the premier Austin horror and fantasy actress, focusing her acting art on these genres with a high degree of commitment. She can be the Queen of Many Nights in many characters. Kelsey Mazak as Nora Manning is an excellent screamer. She has a promising future in the horror genre.
As in comedy, in horror timing is everything. Director Jenni Bauer put the cast through their paces running up and down the strongly vertical set on very tight cues. A little more rehearsal is needed in manipulating the movable doors. When a door opens of its own and there's nobody there, it is not good for the audience to glimpse the stage hand who actually opened it. Stagecraft, stagecraft.
The lighting design was very complex in response to the set; kudos to lighting designer Lisa Scheps for setting many moods and directing the audiences' gazes appropriately. Sound effects came from Sound Guru Steven Sulzer.
Finally, here we have some realistic stage firearms. Producer and Costume and Properties Designer Patti Neff-Tiven receives credit for them and for heeding Chekhov's law regarding the appearance of such props onstage.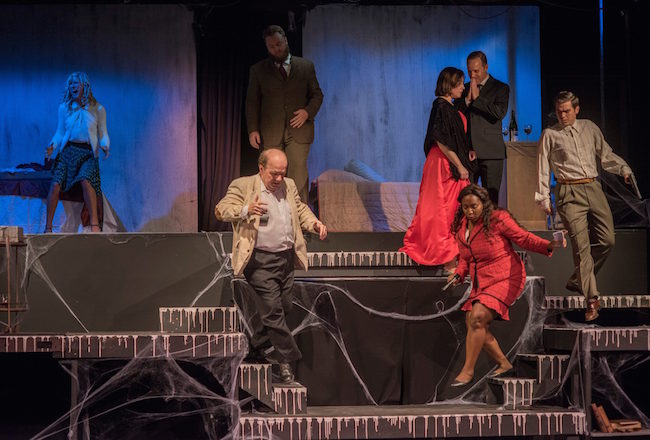 House on Haunted Hill is genre entertainment and very enjoyable even though the play doesn't quite know what it is. It lightens the current Austin season, a little too loaded with experimental studio stagings of new plays by newly minted playwrights whose plays also do not know what they are — but aren't half as enjoyable as this one.
House on Haunted Hill at Ground Floor Theatre is a good choice for a your dose of right in this Halloween season. Very young children who don't deal well with " 'fraidy" might not like this one, but all other ages are likely to enjoy it. It runs until October 24.
EXTRA
Click to view the program leaflet for House on Haunted Hill by Weird City Theatre Company
---
The House on Haunted Hill
by Robert L. Berry's adaptation of the Robb White 1959 film
Weird City Theatre
Thursdays-Sundays,
October 08 - October 24, 2015
Ground Floor Theatre
979 Springdale Rd
Austin, TX, 78702
Performances run October 8 - October 24, 2015 at Ground Floor Theatre, 979 Springdale Road, Austin, TX at the corner of Springdale and Airport. Performances are Thursday through Saturday nights at 8:00PM.
Thursday Nights are "Pay What You Wish" at the door with an "Actor's Benefit" performance on Thursday, Oct. 15 (all proceeds pay the artists). Friday, October 9 will be an official "Opening Night" with a reception and refreshments to follow the performance. Tickets to the Opening Night performance and reception are $20. For all other performances, tickets are $15.00 for adults and $12.00 for seniors and students (with ID), and group rates are available.
Tickets can be purchased at Ground Floor Theatre's website, www.groundfloortheatre.org