Review: Krapp's Last Tape AND Hughie by Actors Theatre Austin
by Michael Meigs
There are few things more disturbing and moving than the sight of a mild-mannered funnyman in despair.
Michael Stuart's always a welcome presence on Austin stages. A tall man with a large frame, gently balding pate and subtle smile, he's always turning up in reassuringly comic or quirky roles, particularly at the Austin Playhouse. The tut-tutting Lord Summerhayes in Shaw's Misalliance; Angus the dreamy mentally handicapped Canadian farmer in Hyde Park Theatre's The Drawer Boy; LBJ for Larry L. King's The Dead President's Club and Nixon for The Frost/Nixon Tapes. And the list goes on and on; he's been a core member at Austin Playhouse since 2004. Writers at the Statesman and the Chronicle gave him an award for conspicuous versatility in 2014, and the 2011 B. Iden Payne voting chose him as best actor, supporting role in a comedy, for his the-worm-turns role in the otherwise pretty grim Zach Theatre production of August Osage County.
As if to prove the insularity of Austin audiences, during the Zach run sometimes people would come up to congratulate him and ask if he'd done anything else in Austin.
Stuart's solo turn in Krapp's Last Tape by Beckett and his near-solo turn in Hughie by Eugene O'Neill offer a different Stuart, darker and bleaker, related more closely to the three bad-guy roles he played in Waiting for Lefty for Street Corner Arts. Performed on the near-empty black box stage with a short intermission, these two pieces complement one another, each opening the shadowy doors of memory and self-delusion.
Krapp, aged and infirm, is alone in a barren room furnished with only a table, a reel-to-reel tape recorder and a cabinet. He sighs, fumbles, loses his concentration, eats a banana; he digs out a tape made decades before and threads it onto the machine. We hear him listening to himself, to ramblings recorded as a sort of audio diary when he was young, dreamy, perhaps even in love. More importantly we see him, watch his reaction to his former self. It's a relatively short piece, perhaps only about half an hour, but it spans decades and leaves us in the audience suspended between them, looking down at the apparent emptiness between then and now. In effect, Krapp's unexplained ritual of listening places his face and ours up against the spinning dials of clock and calendar. Silence is loud in this piece, as it is in so much of Beckett.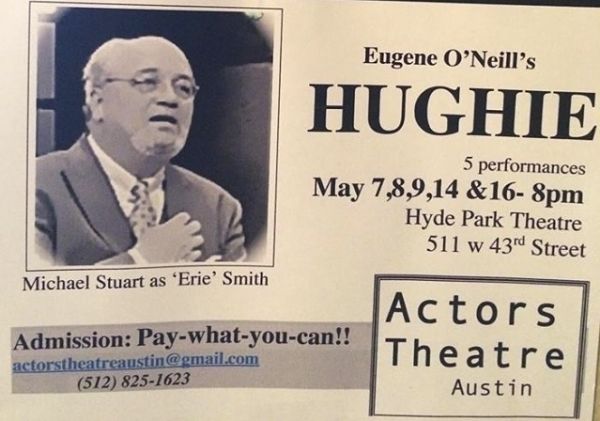 The O'Neill piece, in contrast, is one of chatter and anecdote, but it offers a similar glimpse into a life of striving with little accomplishment. Stuart is Erie Smith, a very small-time hustler and race tout returning to the crummy New York hotel where he used to entertain the night clerk Hughie with tales of his exploits -- winnings at the horse races, beautiful dames, mob acquaintances. But Hughie is gone; he died last week. Smith's garrulous tale-telling is partly lost on the new night clerk (Jonathan Urso), also a Hughes -- no relation -- but partly deaf.
O'Neil wrote Hughie in 1942 but it wasn't performed until 1958, five years after his death. The first production was in Sweden, and it didn't go onstage in the English-speaking world for another five years.
Stuart's Erie Smith has the nervous energy and cocky walk of a self-aware loser. He's a man who lives on the generosity of others, and his jumpy account of his personal myth becomes more and more hollow. The hotel clerk is hearing very little and not listening very attentively to that. Smith finds himself working to please and to befriend the disengaged young man. His persistence is a sign he doesn't realize that he's at the end of his own rope.
One technical point: though Krapp places his reels on the agreeably mid-twentieth-century box of a recorder, the sound is routed through the theatre's system. It emerges somewhere behind us, disassociated from the scene on stage and somewhat muffled. Our eyes focus in one direction but our ears strive elswhere to capture the somewhat indistinct voicing of unexpectedly poetic images.
The dying notes of Beckett pull us down while the quick energy of O'Neill's monologue diverts and offers a fatal tickle of comedy. Michael Stuart does justice to both conceptions.
---
Krapp's Last Tape AND Hughie
by Samuel Beckett, Eugene O'Neill
Actors Theatre Austin
Thursdays-Saturdays,
May 07 - May 16, 2015
Th-Saturday May 7 - 9, Thursday, May 14, Saturday, May 16 at 8 p.m.
Pay what you wish; purchase via Hyde Park Theatre website.