The ONLINE EXPERIENCE is a bespoke interactive website originally presented by the University of Texas at Austin's Department of Theatre & Dance as part of the virtual Fall 2020 season. In July 2021, ARCOS workshopped website revisions with students at the American Dance Festival who performed the online experience in the Festival's showcase. For these August viewings, we have further updated the website and generated new content with ARCOS' professional company, including a pre-filmed performance with over a dozen interactive camera angles in addition to live portals into the in-person locations' simultaneous streams.
The IN-PERSON EXPERIENCE is our most recent experiment in hybrid performance. But "performance" no longer describes what we're exploring here. Should you choose to join us at one of the in-person locations, you will be entering and witnessing a complex experiment in hybrid forms; body processing, imagining multiple realities, and sensing into the non-physical as reality. This is our first gentle reach back into live gatherings. ARCOS is closely tracking the health precautions and protocols of the Centers for Disease Control and Prevention, Travis County, and the City of Austin, and is in communication with participating dance artists regarding their personal safety needs. In-person audiences will be required to affirm they are vaccinated and will wear masks indoors for the duration of the presentation. We reserve the right to cancel any in-person events.
Special Drive-In Experience on August 14, 2021
at the Museum of Human Achievement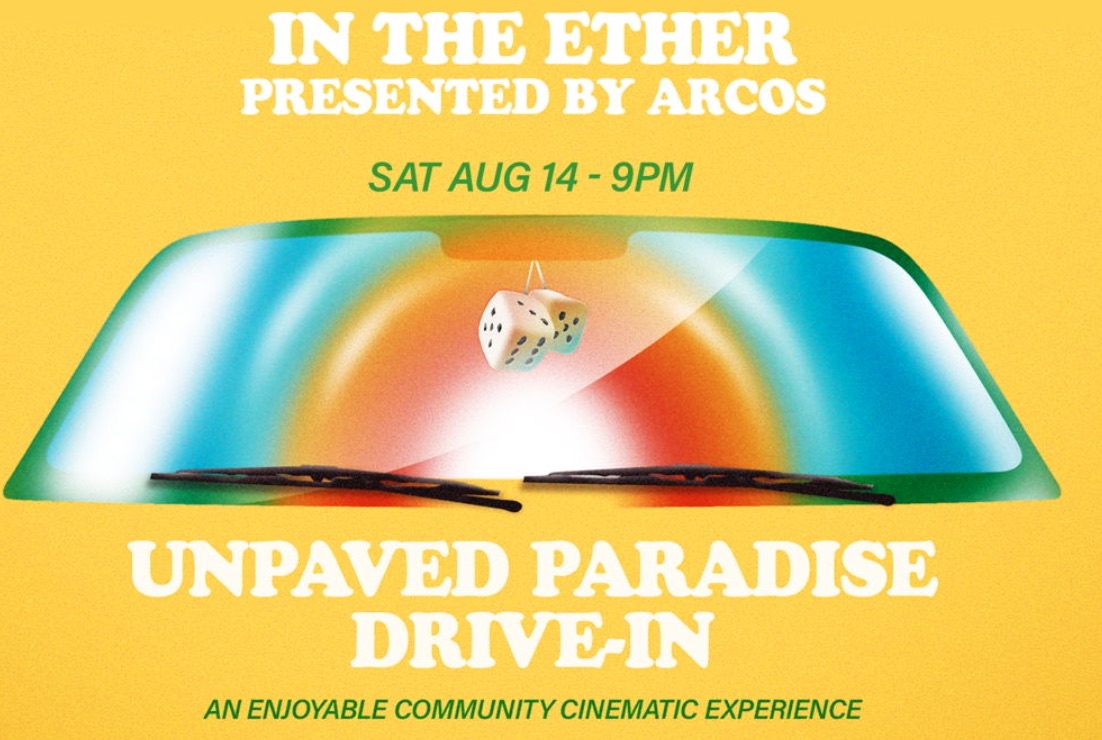 Welcome to the Ether. You are there. I am here. And together we are creating a third space, between yours and mine. In the Ether, we encourage you to find ways to slow down and listen to your body. Feel any sensations that come up. Let us know how you feel. Send a message and help our host navigate this space alongside friends and strangers. Feel free to wander: we're not sure what we're looking for, or whether we'll know if we find it. But remember, we are all journeying in the Ether together.

ARCOS experiments rigorously to discover adventurous new forms of performance, in part by making hybrid work that integrates newer and older technologies through bodies in movement to question dominant understandings of the world. Provoking interplay along a spectrum from human to mechanical to digital, virtual and physical, live and asynchronous, ARCOS seeks to imagine tangible new relationships that may be surprising, intimate, and immense.
ONLINE

Enter the Ether from your laptop or desktop computer. This browser-based experience is a digital meditation; you will be guided through the interactive website and be offered opportunities to slow down, breathe deeply, and connect.

Google Chrome web browser and a broadband internet connection are required to join us online.
IN-PERSON

Spend time with the Ether artists as they engage in their hybrid, durational movement practice. Each location will feature 1-3 dancers with an intimate audience. The dancers will be live streaming into the online experience while you witness in real time.

Verification of vaccination and wearing of masks are required to join us in person.

Take a look at the map on the next page to confirm locations before completing signup:
---
This project us supported in part by the Cultural Arts Division of the City of Austin Economic Development Department.