Review: Outside Mullingar by Reverie Theatre Company
by Michael Meigs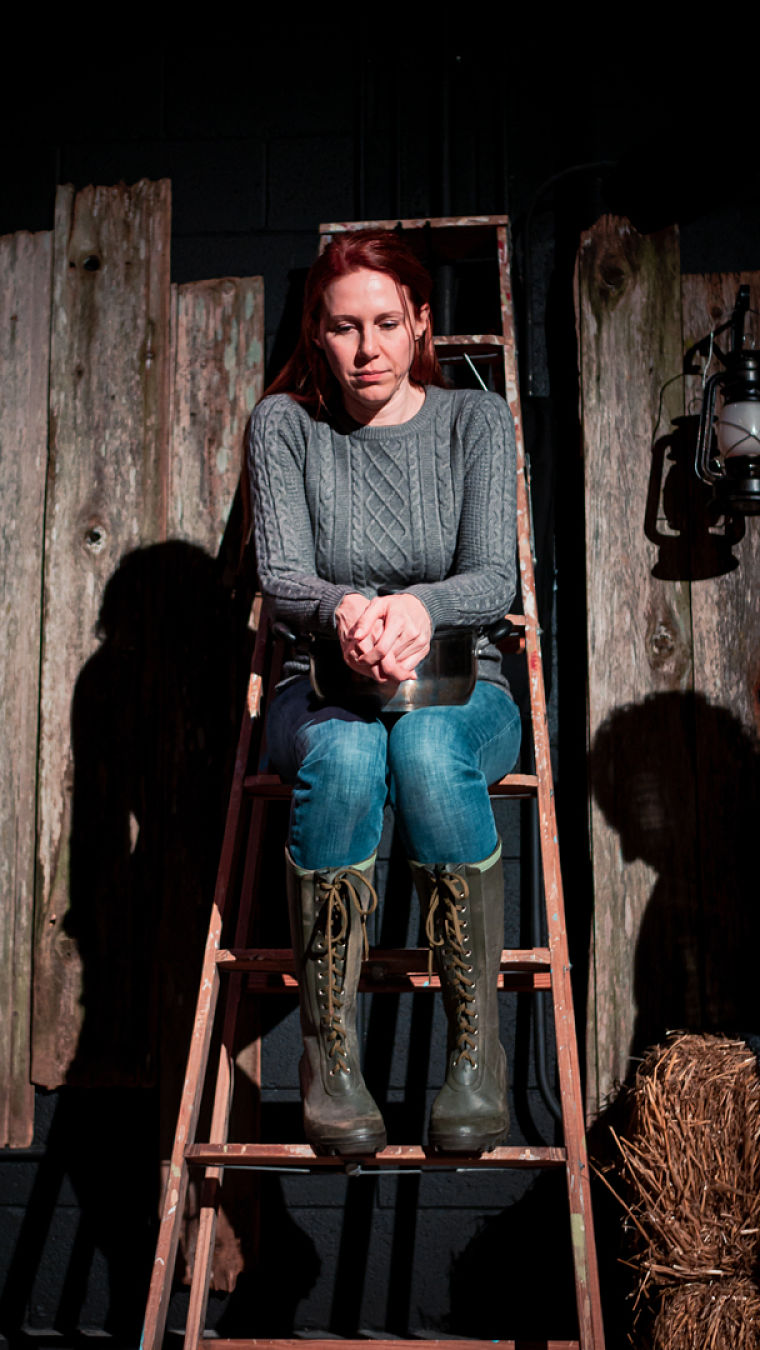 Two points:
1. Go see Outside Mullingar. Only about once a season do we get a production of this depth, intimacy and autheticity. There's only one weekend left and seats are scarce. The Mastrogeorge Theatre, part of the Carol Hickey acting studio, just behind Blue Owl Brewing at E. Cesar Chavez and Pedernales, is a small space with limited makeshift seating.
2. And when you do, get there ahead of time. The place holds only about 40 persons. Don't allow yourself to be tempted to linger out in the hallway. If you get yourself one of the 15 or so front seats, you'll find yourself in unobstructed timeless rural Ireland for an evening that will engage your heart. If you're on the second row, you'll still be in Mullingar, but you'll be peering past ears and leaning to one side and then the other, given the low rise of the seating. Perhaps the third row is better?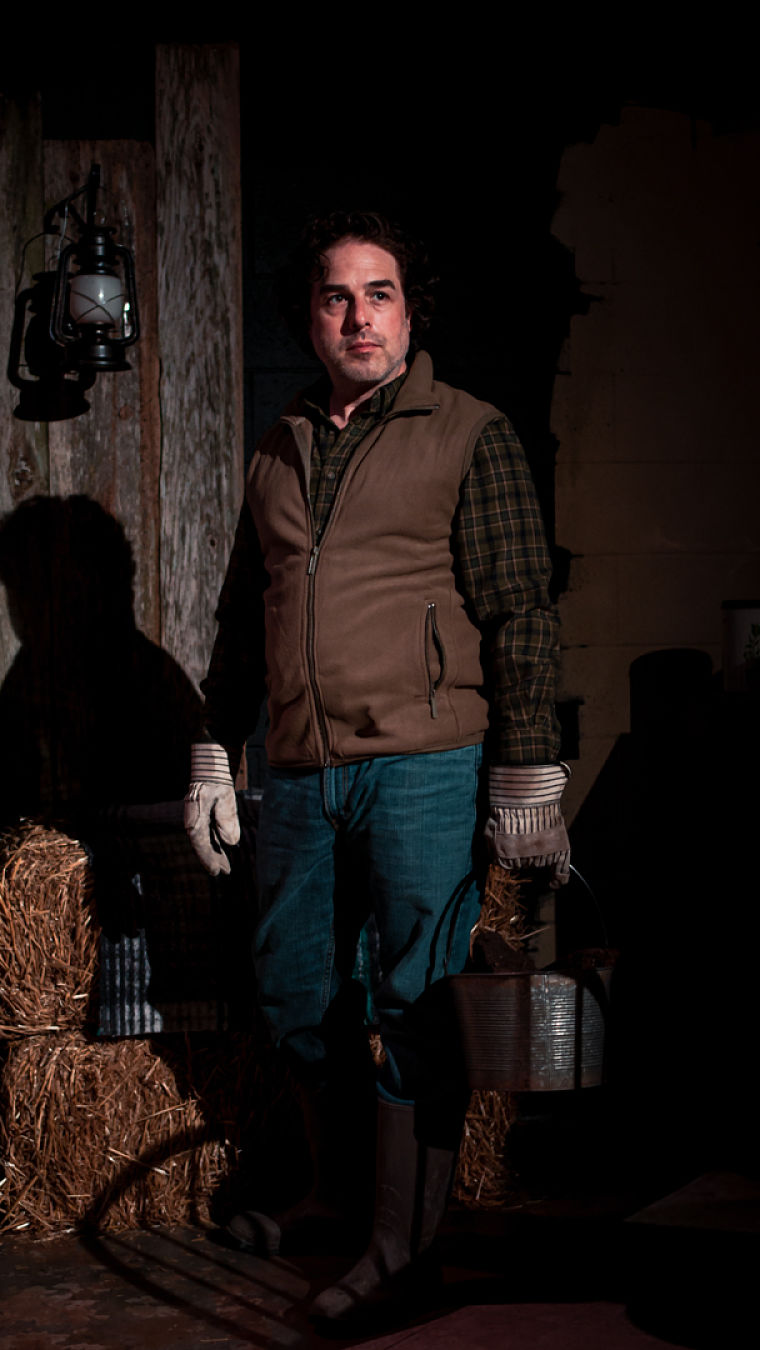 This production by the newly founded Reverie Theatre in Austin reminded me why a theatre writer pursues the art. Their staging of Outside Mullingar is the sort of revelation that moves, surprises, intrigues and removes you entirely from the here and now. Theatre art employs conventions and artifice, and we play along, accepting those and allowing ourselves to believe. In this production four perfectly cast actors take you onboard a script so eloquent and yet so subtle that only at the intermission and at the celebration at the end do you realize you're not in the farming country of County Westmeath, central Ireland.
For me the essential magic of dramatic art is the transmutation of the written word. Director Michael Cooper and the cast of Outside Mullingar achieve that without philosopher's stone or magic wand. With the gorgeously delivered lilt and melody of Irish accent, with exquisite pace, and with aching nuance of expression and character, they bring alive Shanley's text about the passing of seasons and the passing of generations. Two families exist in a stark landscape of the mind where the land and tradition predominate. A father and son; a recent widow; a spinster daughter. Two farms are side by side, and a property dispute has been unresolved for the past thirty years.
Tom Swift is the bearded, bemused Tony Reilly, and Luke Hill is his son Anthony. Tony grumbles he'll probably leave the farm to a nephew gone long ago to America. He verbally pokes Tony as "not really a Reilly" and not loving the land. Hill as the son is contained, uncertain, deeply frustrated with farming and the unexpressed discontents of his life there. Luke Hill's phenomenal control of gesture and emotion give us a character of depth and many layers, vibrant with feeling although almost entirely tongue-tied. As the second act opens, the father sits in an armchair, wrapped in a blanket, clearly at the end of his days. Swift's monologue to the grieving son is a thing of wonder, and Hill's choked, mostly wordless response will remain with you for a long time.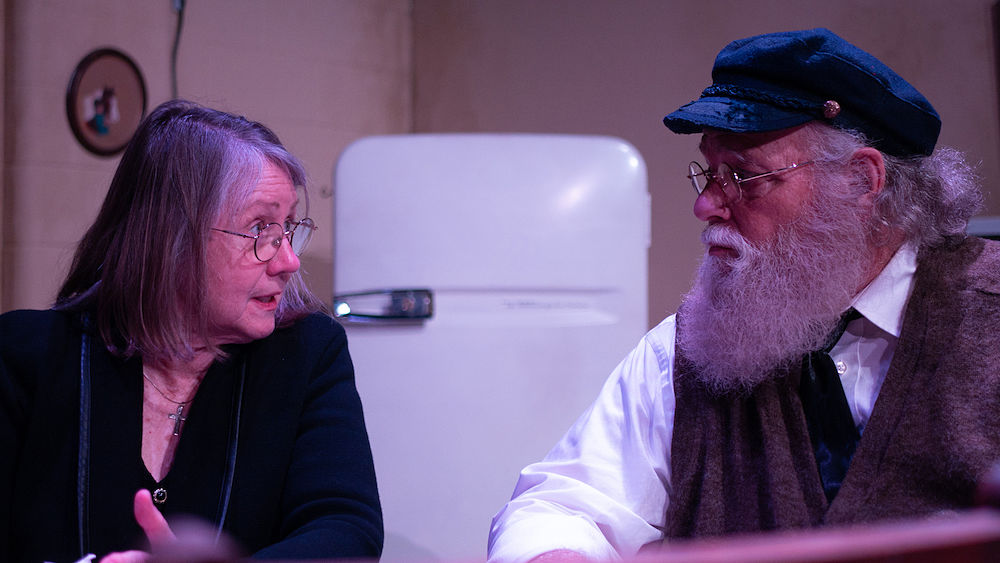 We witness a similarly spikey relationship between mother and daughter. Laurie Coker as the recently widowed Aoife Muldoon brings reports of the wake and funeral, but she continues to worry about her daughter; Erin Una Olson as Rosemary is sharp, sullen and assertive. Coker is bird-like and alert; Olson is a brooding, powerful presence.
When the families associate by generations -- Tony and Aoife, Anthony and Rosemary -- they resonate. The older generation is worried and unsatisified with the younger; the younger members are wrapped in frustrations with themselves and with each other. Tongue-tied Anthony and tart-tongued Rosemary are impossible as a couple, for she's an angry catalyst and he's a determined, neutral solution. The story arc is inevitable and infinitely rewarding. Time slips away, individuals disappear, the land and the folk remain.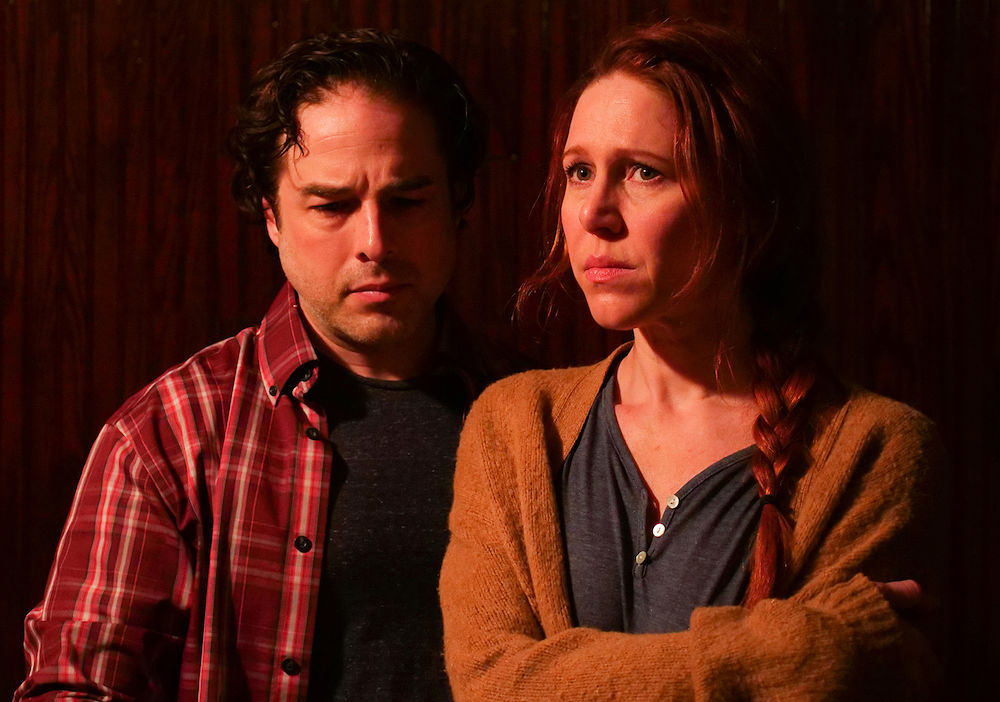 Fiddler Michael McCauley lingers at the edge of the playing space throughout both acts, opening the production with a graceful jig, darting evocative tunes between scenes, and wrapping up the story with a lovely Irish dance tune. Though he never says a word, he's a mute but eloquent representation of the gallant spirit of Ireland this cast and this production are evoking.
EXTRA
Click to view the program for Reverie Theatre's production of Outside Mullingar.
---
Outside Mullingar
by John Patrick Shanley
Reverie Theatre Company
Fridays-Sundays,
June 14 - June 30, 2019
Fridays and Saturdays at 8 p.m., Sundays at 2 p.m.
Tickets: General admission $30, students $25, VIP $40, plus services fees, via