Review: Shrek The Musical by Woodlawn Theatre
by Kurt Gardner
Based on the 2001 DreamWorks animated adaptation of William Steig's 1990 picture book, Shrek the Musical is a colorful, amusing production that brings the adventures of the antisocial green ogre to San Antonio's Woodlawn Theatre with satisfying results. The company tackles this big, Tony Award-winning Broadway show with its usual gusto.
The plot should be familiar to all those who've seen the film. After a prologue in which Shrek's parents send him out to make his way in the world on his seventh birthday, we encounter him years later living in contented isolation in a swamp. He suddenly finds his serenity disrupted by the arrival of a pack of fairytale characters who've been banished from the Kingdom of Duloc by the evil Lord Farquaad for being "freaks." He agrees to journey to the kingdom to help them regain their home, but mostly to regain the solitude of his swamp.
With a donkey as his unlikely sidekick, he travels to the kingdom and is given an additional task by Farquaad. A magic mirror has told the Lord that a princess is trapped in a nearby castle, surrounded by lava and guarded by a fire-breathing dragon. Farquaad wants Shrek to rescue her and bring her to him so that he can marry her and become the King of Dulac. He promises to give Shrek the deed to his swamp in return.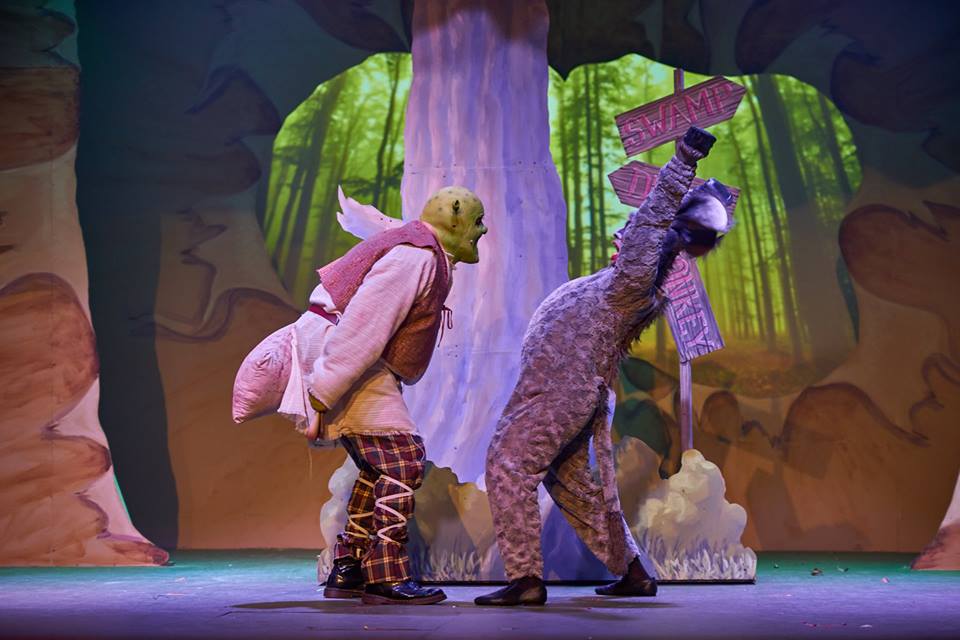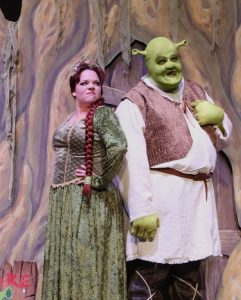 Joshua Goldberg and Morgan Clyde are perfectly cast as Shrek and Fiona, since both possess strong personalities and even stronger voices. Alejandro Pesina threatens to steal the show as the sassy Donkey, and Joshua Buce camps it up as the diminutive Lord Farquaad.
The supporting cast is also excellent. Familiar fairytale characters fill the stage to capacity, including Pinocchio (Alonzo Corona), the Mad Hatter (Michael Cooling), Mama Bear (Krystal Newcomer), Peter Pan (Lucas Poliak), the Sugar Plum Fairy (Grace Lamberson), the Wicked Witch (Twyla Lamont), and the Ugly Duck (Sarah Davis). These neurotic creatures all have their issues, but the positive themes of transformation, redemption, and acceptance help to give Shrek the Musical its emotional thrust.
Some of the songs here will reward fans of Broadway musicals with amusing nods to other shows, including Les Miserables (Freak Flag), Gypsy (Story of My Life), and Wicked (What's Up, Duloc?). Musically, the show is solid, with nice choreography by Corona and the Woodlawn's trademark rich eight-piece orchestra, conducted by Darrin Newhardt.
The production is well-directed by Mark McCarver, whose efforts are enhanced by Benjamin Grabill's multidimensional set, Benjamin Farrar's sound design, and Matt Smith's lighting. The scenic work of Chris Rutz, colorful costuming by Rose Kennedy, wigs by Denise Ebarra, and makeup by Nico Redondo also help to make Shrek the Musical a visual treat.
Shrek the Musical plays Fridays and Saturdays at 7:30 p.m. and Sundays at 3:00 p.m. through July 30 at the Woodlawn Theatre, 1920 Fredericksburg Road. Tickets can be obtained online or by calling (210) 267-8388.
Kurt Gardner's theatre reviews also appear at BlogCritics.org.
---
Shrek The Musical
Wonder Theatre (formerly Woodlawn Theatre)
Fridays-Sundays,
June 30 - July 30, 2017
June 30 - July 30, 2017
Fridays at Saturdays at 7:30 p.m. & Sundays at 3:00 p.m.