Jun. 12 - Jun. 27, 2015
Thursdays-Sundays
If you are looking for a hit musical, you'll need to be sure there are three basics – delightful characters, an engaging story, and a score that is both catchy and memorable. When you add to the mix a stripper on the run, a Magic Marker huffing bad boy biker, QVC, Costco, Cheez Whiz, death row, the Ice Capades and infidelity… you can be sure you've just gone to the other side of tracks and
landed yourself in Armadillo Acres.

The Great American Trailer Park Musical finds us in the Central Florida town of Starke, home of the state prison and death row, the big bad electric chair known as Ol' Smokey, and the three mavens of Armadillo Acres. Acting as a redneck version of a Greek Chorus, the trio is headed by Betty, played by local theatre legend Michelle Cheney (Company, Bending Broadway3). She is joined by Pickles, played by Amanda Serra (Godspell, Carrie: the Musical) and Lin, played by ATP newcomer Jennifer Coy.

The trio takes us on a journey telling the story of Norbert Garstecki, a Florida Turnpike tollbooth collector played by Mark Butler (Carrie: the Musical), his agoraphobic wife Jeannie (played by ATP newcomer Wendy Zavaleta), and stripper-on-the-run Pippi played by Taylor Moessinger (Edges, Company). Rounding out the zany cast of characters is Duke, the ex-boyfriend of Pippi (and the reason she's on the run). ATP Newcomer Chris Ehresmanbrings this screwball character to the stage and wreaks havoc on everyone!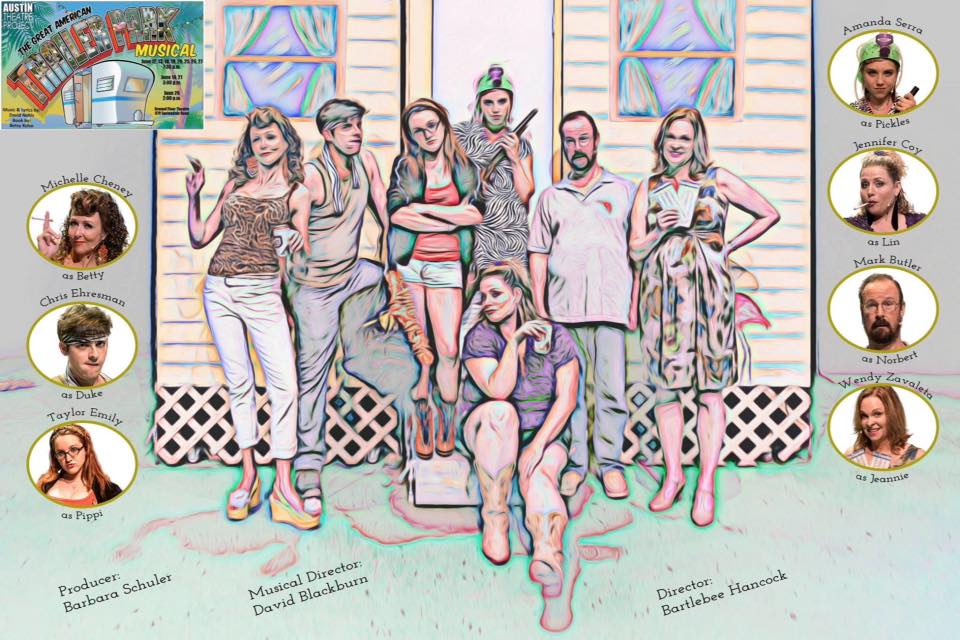 Directed by Jeff Hinkle (Corpus Christi, Falsettos, Carrie: the Musical), The Great American Trailer Park Musical will also feature music direction by ATP Artistic Director David Blackburn and Choreography by Chris Ehresman with a specialty number created by Laura Lund. Lighting design will be by James Jennings and sound design by Sam Kokajko. Costumes design will be done by long-time ATP costumer Veronica Prior and the set design is by ATP Technical Director Jim Schuler. Renata D'Elenawill serve as Stage Manage
---
The Great American Trailer Park Musical
by David Nehls and Betsy Kelso
Austin Theatre Project
Thursdays-Sundays,
June 12 - June 27, 2015
Ground Floor Theatre
979 Springdale Rd
Austin, TX, 78702
Thursdays - Saturdays at 7:30 p.m., Sundays at 2 p.m.
Matinee Saturday, June 20 at 2 p.m.
Tickets $20 - $35, plus service charge, available via