Aug. 05 - Aug. 27, 2016
Fridays-Sundays
The 'Pump Boys' sell high octane on Highway 57 in Grand Ole Opry country and the 'Dinettes', Prudie and Rhetta Cupp, run the Double Cupp diner next door. Together they fashion an evening of country western songs that received unanimous raves on and off-Broadway. With heartbreak and hilarity, they perform on guitars, piano, bass and, yes, kitchen utensils.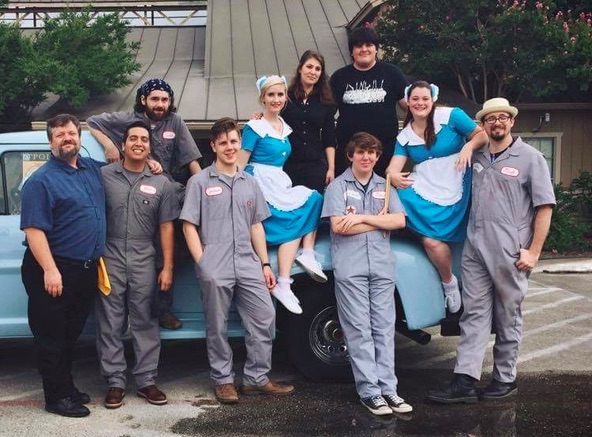 Directed by Jeff Cunningham and starring Point newcomer Caroline Bobbitt and veteran Caitlyn Hollifield (Ado Annie in this Summer's OKLAHOMA!), John Reeves, Hayden Richter, and Drew McKinney, and THE BUDDY HOLLY STORY's Brad Shearhart and Adrian Aquilar.
NOMINEE! 1982 Tony Award for Best Musical
NOMINEE! 1982 Drama Desk Awards for Outstanding Musical, Outstanding Lyrics and Outstanding Music.
"Totally terrific...It is such fun." - The New York Post
"A gasser, with buoyant, earthy humor." - New York Daily News
"Totally delightful." - Newsweek
"When the inevitable "closing time' comes along, you'll wish you could stay a while longer." - Christian Science Monitor
PUMP BOYS AND DINETTES first appeared at the Colonnades Theatre in New York City on October 1, 1981.
---
Pump Boys and Dinettes
by John Foley, Mark Hardwick, Debra Monk, Cass Morgan, John Schimmel, Jim Wann
Hill Country Arts Foundation (HCAF)
Fridays-Sundays,
August 05 - August 27, 2016
Fridays and Saturdays at 7:30 p.m.
Sundays August 14 and 21 at 2 p.m.
General admission/no reserved seats
Adults $20, children 12 and younger $12
"Both musically and theatrically, a triumph of ensemble playing. It doesn't merely celebrate the value of friendship and life's simple pleasures, it embodies them." – The New York Times
Performance Dates:
Friday, Aug. 5 @ 7:30 p.m.
Saturday, Aug. 6 @ 7:30 p.m.
Friday, Aug. 12 @ 7:30 p.m.
Saturday, Aug. 13 @ 7:30 p.m.
Sunday, Aug. 14 @ 2:00 p.m.
Friday, Aug. 19 @ 7:30 p.m.
Saturday, Aug. 20 @ 7:30 p.m.
Sunday, Aug. 21 @ 2:00 p.m.
Friday, Aug. 26 @ 7:30 p.m.
Saturday, Aug. 27 @ 7:30 p.m.