My Arab Fall
by SALTA
Jul. 25, 2015
Saturday
Imagine if Spaulding Gray woke up one morning as a 45-year-old Latina amidst the multitudes in Tahrir Square, shoulder to shoulder with her Egyptian hermanas and raising a fist in solidarity with the women of Cairo. My Arab Fall is a multi-media theatrical performance drawn from a Chicana's experiences traveling in Egypt months after their Arab Spring. Seen through the eyes of two women - a naive yet eager American tourist and a an Egyptian activist fighting to change the world she lives in - this piece is a sometimes comical, sometimes harrowing exploration of gender, religion, sexual assault and everyday life in the Middle East amid the dramatic political changes taking place.

Anna De Luna writes and performs this dramatically charged performative travelogue with Monessa Esquivel.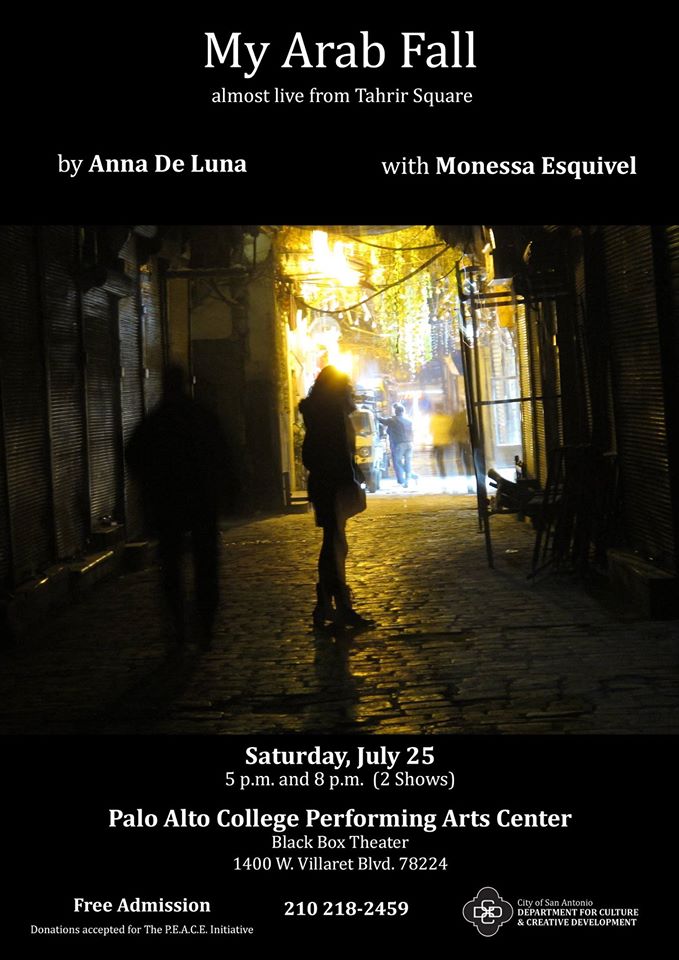 This show is free of charge and open to the public.

Due to adult subject matter this show is not suitable for children 12 and under.

For more information call: (210)218-2459.

"My Arab Fall" is made possible through a grant from the City of San Antonio Department for Creative and Cultural Development.

stART PLACE San Antonio's urban neighborhoods benefit from the arts by shaping the lives of residents and their urban experience. The stART Place program is designed to further stimulate neighborhood vitality by supporting creative projects that provide meaningful community enrichment and transformation. stART PLACE will encourage the presentation of new arts and cultural activity in non-conventional spaces.
---
My Arab Fall
by Anna de Luna
SALTA
TWO PERFORMANCES!
Palo Alto Performing Arts Center BLACK BOX THEATER
Saturday, July 25 at 5 p.m. and 8 p.m.
Free Admission - reservations not required.