Jul. 23 - Aug. 13, 2016
Fridays-Sundays
A presentation of the Sam Bass Community Theatre summer youth guild.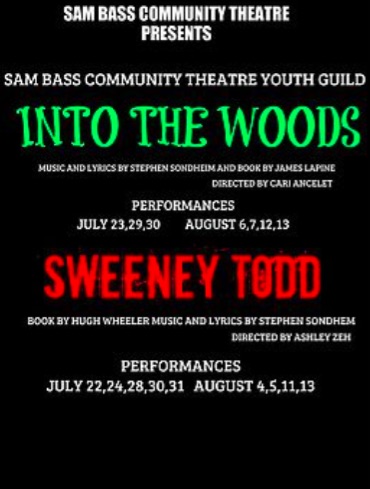 Into the Woods, Jr.
Rated G
Book by James Lapine, Music and Lyrics by Stephen Sondheim
Directed by Cari Ancelet

Join our Youth Guild for the ultimate fairy tale musical ever!
The Brothers Grimm "go Broadway" as Sondheim and Lapine offer up a cockeyed fairy tale in Into The Woods JR., an adaptation of one of Sondheim's most popular works designed especially for young performers.

All of your favorite characters—Cinderella, Little Red Riding Hood, Jack (and his beanstalk), and the Witch—meet and interact in this whimsical original story. The musical centers on a baker and his wife who wish to have a child; Cinderella, who wishes to attend the king's festival; and Jack, who wishes his cow would give milk. When the baker and his wife learn that they cannot have a child because of a witch's curse, the two set off on a journey to break the curse and wind up changed forever.

With unforgettable roles, little dancing, and no chorus, Into The Woods JR. showcases a medium-sized ensemble of talented singers and actors. The sophisticated score has been adapted to make it easier - though still challenging -for young performers. Into The Woods JR. is a funny and engaging way to get young people to think about the stories with which they've grown up and the ethical issues raised therein.
[image via sparkartsbethel.com]
---
Into The Woods
by Stephen Sondheim and James Lapine
Sam Bass Community Theatre
Fridays-Sundays,
July 23 - August 13, 2016
Presented July 23, 29, 30 and August 4, 5, 11 and 13
Tickets $10 - $18 plus service fees. Click to purchase tickets on-line.