Sep. 20, 2015
Sunday
Join Trouble Puppet Theater Co. for our extraordinary annual party and troublefest!

Justin Sherburn's trio, The Ascots, will perform! We will have a seance with guest mediums assisted by Victorian Lady Explorers Amelia Weatherbeaten and Eleanor Dangerbottom (Caroline Reck and Cami Alys). Word is that Houdini may appear. And there will be magic! Best of all, you will get a sneak peek at our upcoming show, Frankenstein (opens 10/29)!

Food and drink, raffle prizes. Haunting fun!

Come dressed as your favorite ghost and receive five free raffle tickets!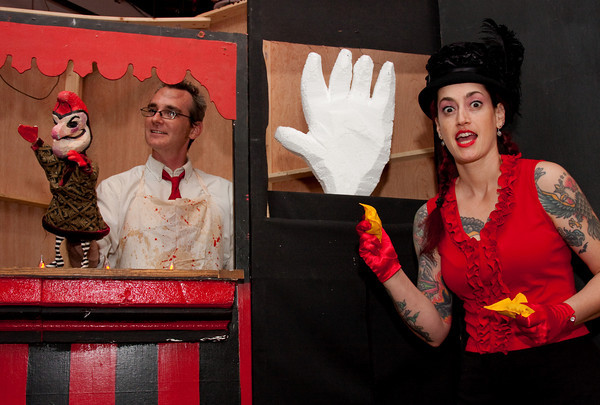 Founded in 2004, Trouble Puppet is dedicated to the creation of exceptional works of puppet theater, to the promotion of the art of puppetry, and to the support of its practitioners. Trouble Puppet is a sponsored project of Salvage Vanguard Theater. Trouble Puppet is funded and supported in part by the City of Austin through the Economic Development Department/Cultural Arts Division. Our Spring 2016 show is funded in part by the Jim Henson Foundation.
---
Get into Trouble fundraiser
by Trouble Puppet Theatre Company
Trouble Puppet Theatre Company
Sunday,
September 20, 2015
private residence
to be revealed
Austin, TX, 78700

Funds raised support creation of our shows. Please consider buying Patron or Ardent Supporter tickets to help us make the best art we can.

This event is at the lovely home of Colin Lowry and Andrea Ariel, on Canterbury Street, 78702. DOORS AT 7:00 PM. No early admission. (Address to be provided to ticketholders.)

Parking is available on the street or at Sanchez Elementary School.

512-573-2540; www.troublepuppet.com.

AGES: The event is for grownups, but there's no specific age limit.
All for just $15. Advance $10 tickets are available till 9/13 at