Dec. 31, 2016
Saturday
Sam Bass Theatre is hosting its 2016 New Years Eve Fundraiser show and the theme is A Night In Storyville and an Evening of Burlesque. The show takes place on New Years Eve with Saffire T. Stone hosting the event ( 2 time best drag performer in the Austin Chronicle). After the show is a fun cocktail party to ring in the new year! The show will consist of several Burlesque performances, sultry jazz singers, and fabulous drag performers all bringing the heat and the sex appeal in a roaring 20's style.
The area of New Orleans known as Storyville was 12 blocks of legalized prostitution from the late 1800's through the early 1920's. This area is known as the birthplace of JAZZ. Some of the notable figures of Storyville you may have heard of others are New Orleans own personal dirty little secrets. Those that you may have heard of are Buddy Bolden, Jelly Roll Morton, and Pops Foster. There are rumors that Louis Armstrong first performed in the infamous brothels of Storyville.
?
The owners of the brothels, saloons, and cribs would hire musicians to entertain the clients. These audiences tended to not be very critical, giving performers the freedom to experiment with their musical styles. Many different forms and genres of music arose from this experimentation, combining different influences such as African, French, and contemporary. With the closing of Storyville in 1917, the New Orleans musicians who had relied on the district for employment moved elsewhere. Many of these musicians moved to the next major urban center of jazz, Chicago. Musicians, such as Louis Armstrong, flourished here.
Come join us this New Year's Eve for
"A Night In Storyville!"
the SBCT 2016 New Year's Gala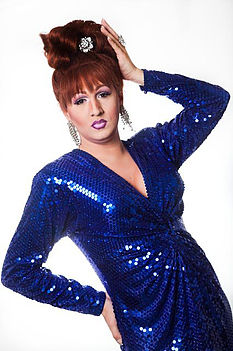 The show takes place on
New Year's Eve
with
Saffire T. Stone
two-time Austin Chronicle's best drag performer hosting the festivities.
"When she emerges, there is no question: Saffire T-Stone is Joan Crawford. It takes a lot of woman to be able to pull off an icon like Joan … or Dolly or Tina. Well, once the gown is draped and the foundation sets, Olin Meadows as Saffire T. Stone is all woman: already titled (United Court Princess Royal) and credited for successfully hosting the first drag show in Williamson County." - Austin Chronicle


"She was the consummate host and made everyone feel welcome, no matter their age or sexual orientation. After a few minutes in her presence, it was no wonder she tied for Best Drag Performer in the Austin Chronicle's Best of 2010 Readers Poll." - Chickstermag.com

Before the show is a fun cocktail hour to get the party started in true New Orleans Style!

Then at 9:00 pm
the show starts with lots of bawdy performances from sultry jazz singers,adorable dancing boys, and some scandalous vixens of the stage, all topped off with one fabulous drag performer, who all bring the heat and the sex appeal in a roaring New Orleans Jazz style.

Stay after the show for a scrumptious New Orleans inspired buffet with glorious cocktails and fabulous company to ring in the New Year!

SATURDAY, DECEMBER 31, 2016
Hosted by Saffire T. Stone 2 time Best Drag Performer – Austin Chronicle Reader Poll
Saffire T. Stone is a Community Activist, Entertainer, Celebrity Impersonator, Drag Diva, Friend to Many Enemy to Few. She has performed all over the state of Texas before retiring from the limelight to pursue a career in the Director's Chair. This is the first time she has come out since her retirement and will only be performing for this one night only special. This is a night not to be missed with Humor, Musical Performances, Surprises and the classic Saffire. The evening will feature performances by actors and actresses from across the Central Texas Area as well as top notch burlesque performers from some of the best in the business. If you love a bawdy good time, with a little bit naughty humor then this is the event for you! Following the show will be a rousing party to ring in the new year with specialty cocktails, silent auction, and a Champagne Toast at Midnight!
Directed by Olin Meadows.
---
An Evening in Storyville - A Night of Burlesque
by ensemble directed by Olin Meadows
Sam Bass Community Theatre
Saturday,
December 31, 2016
A fundraiser for the theatre, starting at 9 p.m. on New Year's Eve.
Tickets $50 -- purchase on-line via