Nov. 25 - Dec. 23, 2022
Fridays-Sundays
Based on the beloved, timeless film, this heartwarming musical adaptation features 17 Irving Berlin songs.Veterans Bob Wallace and Phil Davis have a successful song-and-dance act after World War II. With romance in mind, the two follow a duo of beautiful singing sisters en route to their Christmas show at a Vermont lodge, which just happens to be owned by Bob and Phil's former army commander. With a dazzling score featuring well-known standards including "Blue Skies," "I Love A Piano," "How Deep Is the Ocean" and title song, White Christmas'' is an uplifting musical perfect for the Holiday season.
Director: Lizel Sandoval
Choreographer: Jeannine Freeman
Music Director: Jane Haas
Stage Manager: Brooke Stiles
Cast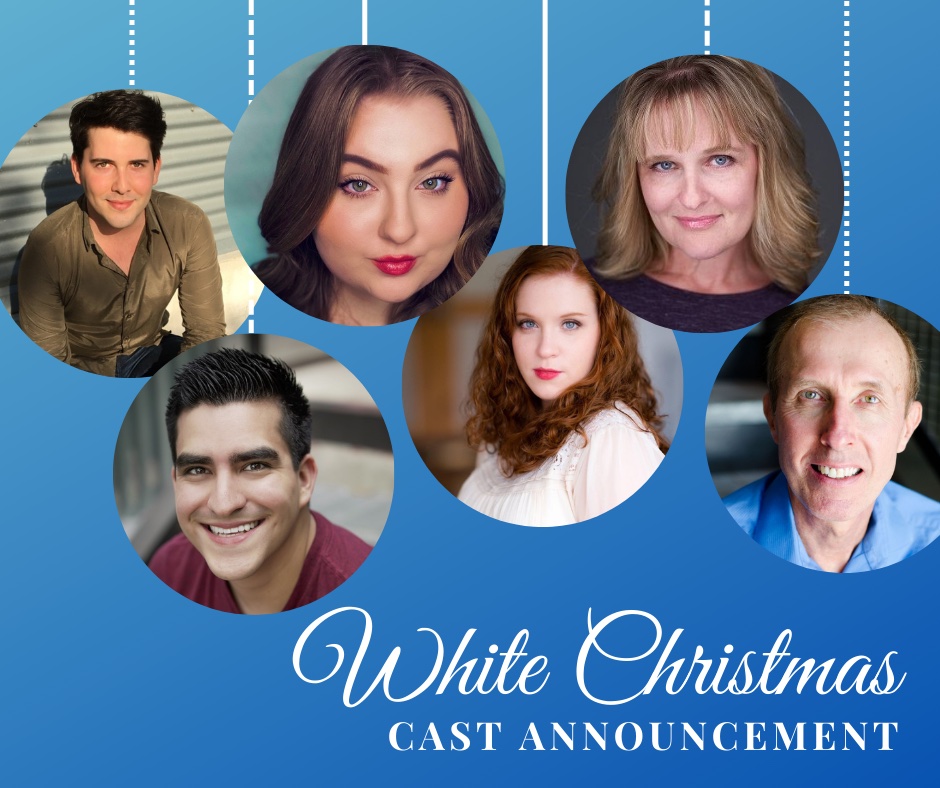 Bob Wallace - John Berring
Phil Davis - Ivan Ortega
Betty Haynes - Laurel Neuhaus
Judy Haynes - Kate Ragan Davis
Martha Watson - Heather Hooten
General Waverly - Michael Cooling
Ralph Sheldrake - Jacob Sengele
Mike - Nick Glavac
Ezekiel - Marshall Chase
Dance Ensemble
Sami Serrano
Ashley Markgraf
Brooke Arnold
Heather McMillan
Nicole Ray Phoenix
Rachael Lorenzetti
Shelby Ward
Chrystal Frost
Brian Zavala
Alonzo Corona
Michael Parisi
Antonio Cruz
Myles Harris
Nicholas Carpenter
Ensemble
Liz Tkacik
Danica Mckinney
Sara Dunn Thomas
Devon Moreno
Tristan Govea
Robert Nauman
---
White Christmas
by David Ives, Paul Blake, music and lyrics by Irving Berlin.Irving Berlin
Wonder Theatre (formerly Woodlawn Theatre)
Fridays-Sundays,
November 25 - December 23, 2022
November 25 - December 23, 2022
Shows are on Fridays and Saturdays at 7:30 pm, and Sundays at 3 pm.
Special shows include:
December 21st at 7 pm

December 22nd at 7 pm

December 23rd at 7 pm
ASL Night: December 9th
Adult Group Ticket Discounts
Purchase Adult tickets for your group of 10 or more and receive 20% off your entire order. To receive 20% off your Group order, the purchase of 10 or more tickets needs made in one single transaction, and for Adult tickets only.
Group Orders need to be done directly through the Woodlawn Theatre Box Office, either in person or over the phone during Box Office hours every Wednesday - Saturday from 2pm-5pm. Call the Woodlawn Theatre Box Office at 210-267-8388 for assistance in purchasing your Group tickets.