And Then There Were None
by Unity Theatre
Mar. 28 - Apr. 14, 2019
Fridays-Sundays
Eight total strangers are lured to a house on a remote island off the coast of Devon and find their host and hostess absent. Along with the staff, they are then marooned on the island by inclement weather and completely cut off from the outside world. One by one they are accused of murder; one by one they start to die. In this classic mystery, statuettes of little soldier boys on the mantel fall to the floor and break as one by one the guests are killed. A sinister nursery rhyme tells how each of the ten 'soldiers' met his death until there were none. Set in the 1940's, this perfect combination of thriller and detective story will keep you guessing to the very final moment.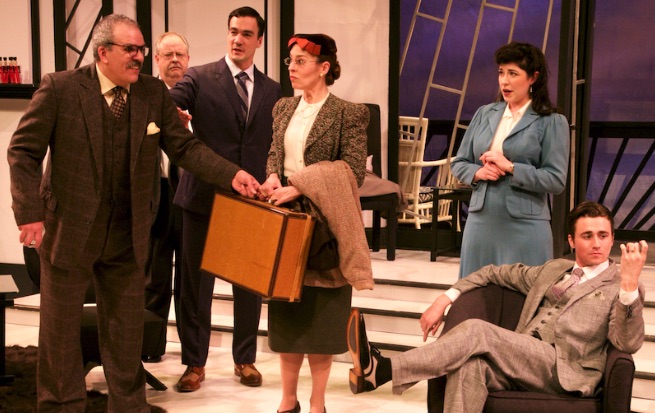 A Mystery Thriller by Agatha Christie
Directed by Kate Revnell-Smith
Sponsored by Andy & Pegge Bogle, John & Jane Barnhill and Merlin & Johanna Hoiseth
---
And Then There Were None
by Agatha Christie
Unity Theatre
Fridays-Sundays,
March 28 - April 14, 2019
March 28 – April 14, 2019
3 weeks, 12 shows
Thursdays 7:30 pm
Fridays & Saturdays 8:00 pm
Sundays 4:00 pm
Ticket Sales Dates
Annual Partner sales begin February 25
Circle Member sales begin March 4
Subscriber sales begin March 11
Public sales begin March 18
Tickets: $27
Students: $15
All unsold seats are $15,
15 minutes prior to the performance.
Preview Night—All seats $19
Thursday, March 28, 2019
CHAT WITH THE CAST
Preview, Thursday, March 28, 2019
Immediately following our preview performance, stay in your seat for a brief talk-back with the cast and director of the show. We love to hear your feedback, answer your questions, and share the experience of creating the play with you.
MEET THE DIRECTOR
Saturday, April 6, 2019
Arrive thirty minutes early for the show and come face-to-face with the director! A great opportunity to hear what goes on behind the scenes of the production, the director's concept, and how they put it all together.