Sep. 01 - Sep. 29, 2018
Thursdays-Sundays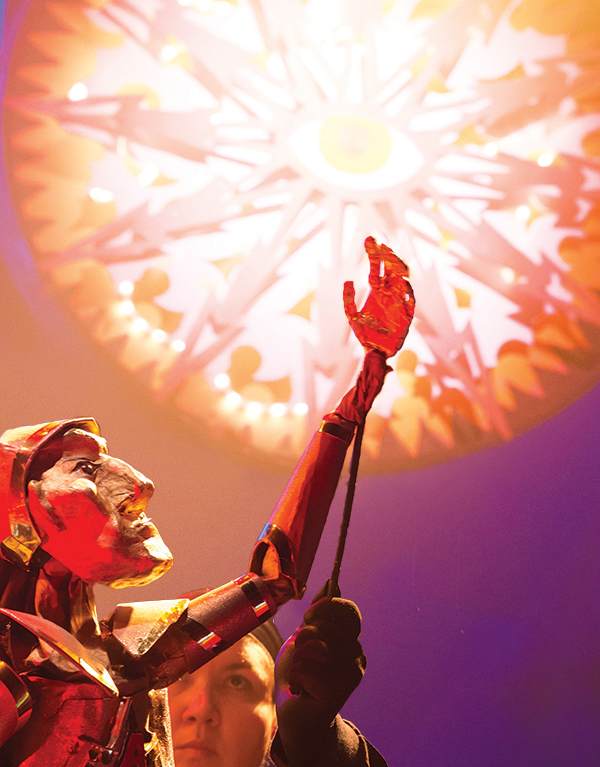 Ethos teams up with The VORTEX to re-create its magnificent and inventive Puppet Opera, Atlantis, which made its world premiere at The VORTEX in 2016. Chad Salvata, Ethos Artistic Director, visions a mythic world of warring religious zealots who are obsessed with world domination and non-renewable energy. With a soaring original score, fantastic and expressive vocalist/puppeteers, this new production of Atlantis: A Puppet Opera is one of the most exceptional and anticipated theatrical works of the year.

In the fantastic world of Atlantis, Queen Solstra and Prince Helios utilize their mighty battleship Invinctus as they seek world domination. They harvest the Eye of the last Kracken to control its Red Energy, but their greed and thirst for revenge lead to the inevitable destruction of their civilization. This cautionary environmental tale with Chad Salvata's dynamic score and magnificent production design offers a magical realm including seductive Mermaids, a monstrous Kracken, and the ever-present power of Ocean, Sun, and Moon.

Director Bonnie Cullum teams up with designers Ann Marie Gordon and Melissa Vogt who have created most of puppets and scenery of Atlantis: A Puppet Opera. Jason Amato, who won the Critics' Table Award for Outstanding Lighting Design for the 2016 production of Atlantis, returns to Austin to re-create his stunning lighting design. Roy Taylor engineers the sound design for Salvata's score with vocal arrangements by Anderson Dear. Tamara L. Farley stage manages the production. Photography by Errich Petersen.

The stellar ensemble features the powerhouse vocals and puppetry of Justin LaVergne, Michelle Haché, Jonathan Itchon, Anderson Dear, Melissa Vogt, Emerald Mystiek, Gabriel Maldonado, Eryn Gettys, Patricia Wappner, Jeremy Moran, Kristin DeGroot, Joseph Quintana, Laura Ray, Aisha Melham, Kera Blay, and Jelena Stojilkovic Rhynes.

While Atlantis: A Puppet Opera is intended for adults and contains some puppet violence and puppet nudity, older children may attend.
---
Atlantis, a puppet opera
by Chad Salvata
Vortex Repertory Theatre
Thursdays-Sundays,
September 01 - September 29, 2018
Tickets $15 - $35, available online HERE.
Radical Rush Free Tickets: Limited free tickets for each performance in the spirit of sustainability, accessibility, and the gift economy. Radical Rush tickets released at 7 pm each night-in-person only.
Blue Star Theatre: Discounts for Military, Veterans, and their families
2-for-1 admission: Thursday and Sunday with donation of 2 cans for SAFE Austin.