Profile: Austin Shakespeare Prepares The Tempest for September 8 - 26, 2010, Rollins Theatre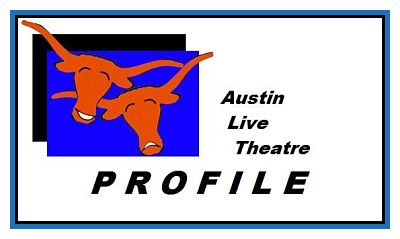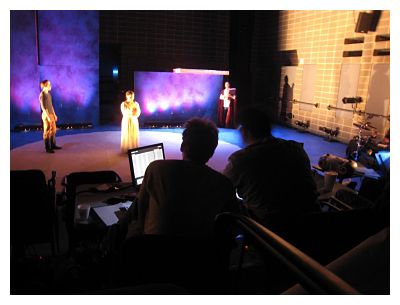 This week Austin Shakespeare opens The Tempest at the Rollins Theatre, Long Center.
Theatre is a collaborative art, coordinated in the best stagings by a precise schedule, time consuming preparation, and an accelerating rhythm as performance day comes near. The actors will fix our attention but the piece depends also upon decisions and actions of those we never see. For The Tempest the company and artistic director Ann Ciccolella are supported -- some might even say carried -- by the work of the stage manager, the dramaturg, designers, dressers, props handlers and stage hands.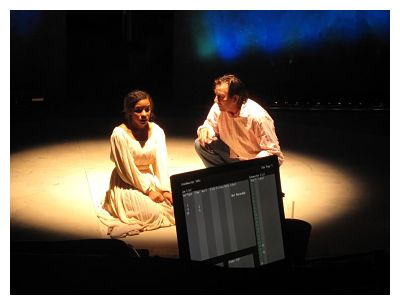 A theatre buff finds it fascinating to watch those contributions coming together in final rehearsals. Last Friday after an escorted trip through the labyrinthine basement of the Long Center, ALT got to sit in the Rollins Theatre for the first melding of those arts. Lighting designer Jason Amato worked his light plot and plan through a full rehearsal.
The cast hardly missed a syllable, even as colors changed, pools of light materialized and then disappeared, and sometimes the action went forward in a penumbra. Shakespeare's intelligence and wit were embodied by the cast, many of them dressed as yet in temporary costume; Prospero's magic isle was defined by a simple wide circle with provisional backdrops. Much of the music was ready, either recorded or played live, but projected video effects for the fairy isle would not be included until the weekend.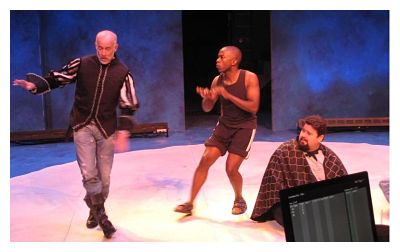 Austin Shakespeare has no venue of its own, but it's a strong, professional organization. The company pays its actors, technicians and staff and attracts creative and knowledgeable talent. The cast led by Austin-based actor Steve Shearer as Prospero had been working for a month on the piece, with twenty-five hours of rehearsal per week. After the weekend's technical rehearsals, they would have the Labor Day holiday at home, then return for Tuesday dress rehearsal and a preview performance on Wednesday, September 8 for the press, friends of Austin Shakespeare, and anyone ready to purchase a reduced-price ticket.
Steve Shearer is a veteran with more than twenty film and television credits. The other Equity member in the cast is Shaun Patrick Tubbs, who earned his Equity card well before he relocated to Austin and completed a two-year MFA at UT.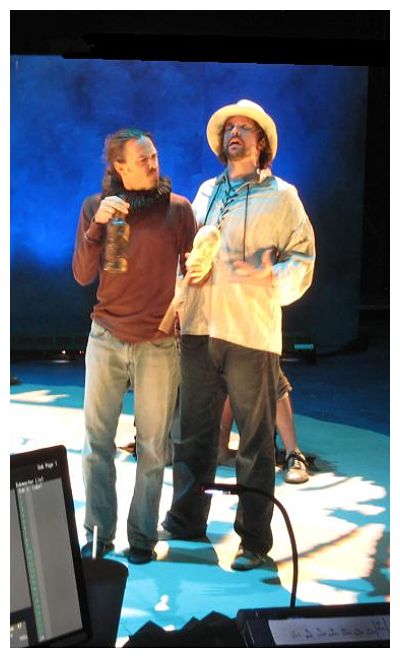 Featured in the cast are charismatic actors whom we've seen before in some of the best of Austin's stagings -- Nathan Jerkins of Penfold Theatre as Stephano the drunken butler, paired with jester Trinculo (Michael Dalmon, who was the wiry, comic Bottom in
The Dream
); decisive regulars of classic theatre Scott Daigle and David Boss as ambitious and spiteful conspirators against King Alonzo of Naples (Tom Stephan); and as an elastic, malevolent Caliban, Michael Amendola, previously seen as the bridegroom George Gibbs in Zach's
Our Town
and Elbow in Austin Shakespeare's
Measure for Measure
.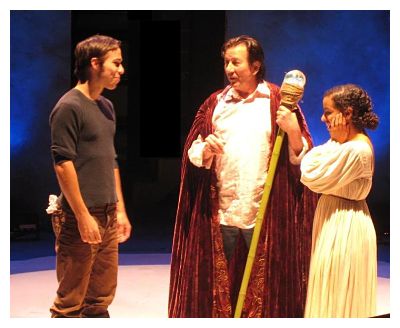 Young lovers Ferdinand and Miranda are played by Texas State BFA actor Travis Emery and by Lindsley Howard, a freshman at St. Ed's who already in 2010 has appeared in Paladin Theatre's Early Girland Biophiliac's God's Ear.
This Tempest is staged in the magic space of Prospero's island, defined by a circle on the floor of the Rollins Theatre. The audience is seated in the familiar Rollins configuration of stadium seating at the north end of the black box. Ciccolella, who gave us a Central Texas Romeo and Juliet and a 1960's rocking Midsummer Night's Dream in recent years, is staging a straightforward Tempest. "No, we're not going to put it in Alabama or some place like that. We did decide to use costumes from about a hundred years after Shakespeare's time, after the English restoration."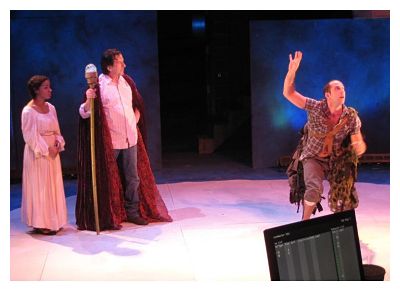 The feeling in the hall was cheerful and relaxed as the cast gathered. Across the acting space, upstage and down, actors were exercising with lengths of wide fabric that would represent the wild waves of the opening storm. Michael Amendola was doing yoga stretches, rolls and bounces, clad in a costume suggesting a cross between a giant turtle and a porcupine. Nathan Jerkins chatted with Ciccolella and dramaturg Christina Gutierrez about the make-up approach to drunkard Trinculo's red nose. "I'll look on the Internet -- I want to figure out something between an alcoholic's nose and a clown's nose."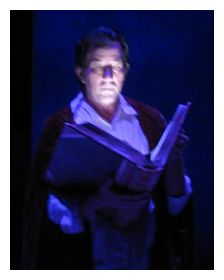 Stage manager Shannon Richey called the cast together for last minute notes. Ciccolella's remarks were brief and positive. Jason Amato and a colleague posted in the first row in a nest of cables around the light board were intent on their lighting plot and settings.
Over the course of the evening we would explore the mysteries of Prospero's weighty magic book, with illumination cleverly hidden inside, and during a break we'd be amused when Tubbs staged an impromptu hand-puppet show behind an upstage flat. We'd hear discussions about placement of trees. Ciccolella would decide to move the intermission to a point earlier in the text. For the time being we would let Shakespeare's words and the story's actions fill in for the stage effects, sets and costumes not yet in place.
"Places, please!"
Light flickered, waves billowed, and the alarmed crew of sailors cried out. The Tempest was underway.
I had intended to stay for only an hour or so, but like courtiers Antonio and Sebastian, I could not move once Prospero had applied his enchantment. And I'll be back for the preview on Wednesday.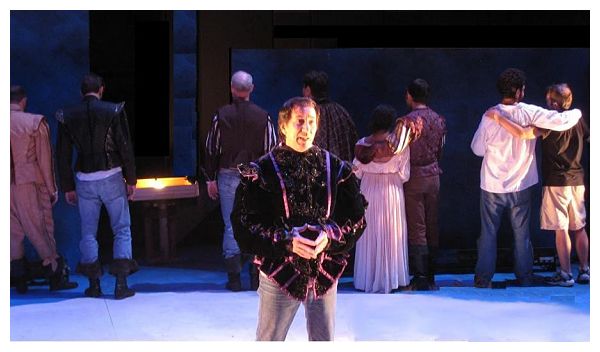 Hits as of 2015 03 01: 2793
---
The Tempest
by William Shakespeare
Austin Shakespeare
September 09 - September 26, 2010
Rollins Theatre
Long Center
701 Riverside at South First,
Austin, TX, 78704