14/48 -- The World's Quickest Theatre Festival
by Ground Floor Theatre
Mar. 30 - Apr. 06 (2021)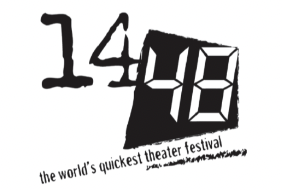 14/48 Austin is goin' virtual!
Well sorta... Here's how it works! Typically:
A theme is randomly selected. Playwrights have one night to write a short play.
The next morning 7 Directors randomly draw from the plays and then randomly draw from a pool of actors.
They rehearse all day while a crew of costume and set designers work away designing for all 7 shows.
That same night the show goes up with all 7 shows underscored by the sounds of a live band!

This Year!

2 plays will rehearse in person at Ground Floor Theatre - each with 2-3 actors max and taking all possible covid precautions and practicing social distancing. Masks will only be taken off for the performance. (if needed)

5 plays will rehearse and perform with all participants working through zoom.

The in-person plays will be broadcast live alongside the live zoom plays for a fun show folks can watch from the comfort of their own homes.

*The theme draw, director play draw, and actor draw will all take place over zoom.
---