Video: EL NOGALAR by Tanya Sánchez, Teatro Vivo at the Emma S. Barrientos Mexican-American Cultural Center, Second Run, September 19 - 27, 2015
Magic Spoon video from the June 2015 production of El Nogalar - The Pecan Orchard -- "What would you risk for the land you love?"

Written by Tanya Saracho. Directed by Rudy Ramirez.
Performed by Yesenia Yadira Herrington, Krysta Gonzales, Olivia Jimenez, Gricelda Silva, Jesus Valles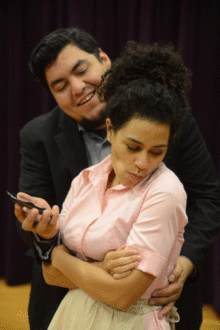 This modern bilingual adaptation of Anton Chekhov's The Cherry Orchard takes place on the beautiful but fading estate, Hacienda El Nogalar,(pecan orchard) now a hostage of the explosive drug wars prevalent in Northern Mexico. El Nogalar is the story of the Galvan family's struggle to hold on to their homestead their precarious social status before it slips away. The play shadows the family's housekeeper, Dunia, as she watches the family matriarch Maite and her daughters squander their money and risk losing everything to a localdrug cartel, La Maña. Despite the repeated warnings from the once humble but loyal worker in the estate's pecan orchard, Guillermo Lopez, Maite ignores her dwindling fortune as stubbornly as she ignores La Maña. This poignant and moving story from playwright Tanya Saracho explores social class, family,identity and the choice between adapting to the changing world or getting left behind.

Mature topics. Recommended for ages 13 yrs and older. Parental discretion advised.

About the playwright: Tanya Saracho was born in Los Mochis, Sinaloa, México. She is a Chicago playwright who currently writes for Television (HBO's "Looking," "Girls," and "Devious Maids."). Named "Best New Playwright" by Chicago Magazine, Saracho has had plays produced at: Oregon Shakespeare Festival, The Goodman Theater, Steppenwolf Theater, Teatro Vista, Teatro Luna, Fountain Theater, Clubbed Thumb, NEXT Theater and 16th Street Theater. Saracho was named one of nine national Latino "Luminarios" by Café magazine and given the first "Revolucionario" Award in Theater by the National Museum of Mexican Art. She is currently in development with HBO and has commissions with the following theatres: Goodman Theater, Steppenwolf Theatre, Two Rivers Theatre, Denver Theater Center, South Coast Rep. Tanya is also a successful Spanish Voice-Over artist and a SAG/AFTRA actress.
---
El Nogalar
by Tanya Saracho
Teatro Vivo
Thursdays-Saturdays,
September 19 - September 27, 2015
Eight Performances! Two Weeks!
Performances are Sat. Sept 19 8pm
Sunday Sept 20 2pm and 8 pm

Thurs-Friday Sept 24 and 25 8 pm
Sat. Sept. 26 2pm and 8 pm
Sun Sept. 27 2 pm

Emma S. Barrientos Mexican American Cultural Center,
600 River Street Austin TX 78701

Free parking is available to audience members.

Tickets $10-20 available on-line via


You may also purchase tickets at the theatre
starting 1 hour before the performance time.