Reimagined GREATER TUNA Directed by Jaston Williams Goes on National Tour
Tour Opens at the McAllen PAC March 21st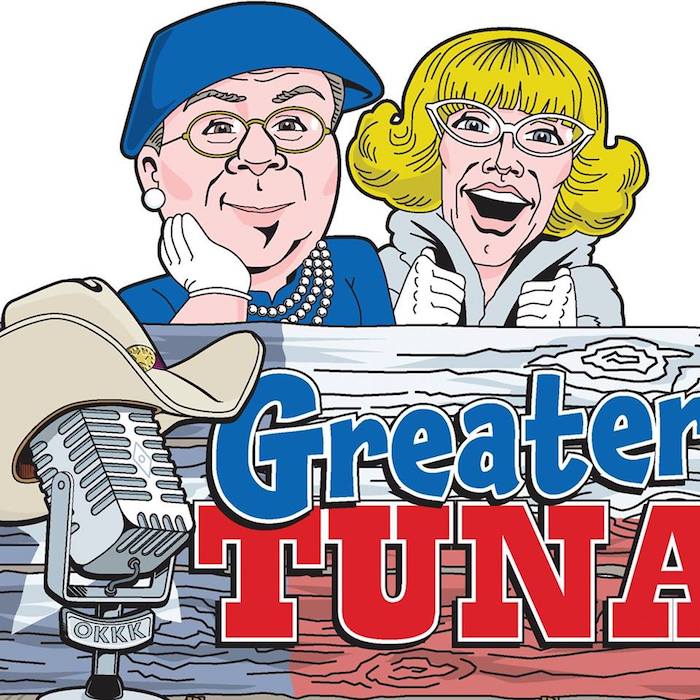 Right Angle Entertainment and A Rising Tide Theatrical Group are pleased to announce the all new national tour of GREATER TUNA premiering in Spring 2017. GREATER TUNA, the hilarious hit comedy about the third smallest town in Texas where the Lion's Club is too liberal and Patsy Cline never dies, is coming back to theatres, this time with Co-Creator Jaston Williams sitting in the Director's chair.
Although written and first performed over thirty years ago, the residents of Tuna could not be more up-to-date. Contemporary politicians and The Religious Right have put the basis for the comedy in GREATER TUNA back on the front pages of today's newspapers. Vera Carp is still leading the Smut Snatchers of the New Order in their campaign to clear the library shelves of dirty books like "Huckleberry Finn" and "Romeo and Juliet". Elmer Watkins speaks up for the KKK, Petey Fisk argues for animal rights, and a Celebrity Murder is on the front page. UFO Sightings? A Fat, Overbearing Talk Show Host? Celebrity Murder? It's not the cover of Time Magazine, it's GREATER TUNA and it's Hilarious!
With its humble beginnings at a Sixth Street cabaret in Austin, Texas in 1981, GREATER TUNA came from the minds of master comedians Jaston Williams and Joe Sears, along with original director Ed Howard as the imaginative authors who parlayed the sketch into the critically acclaimed production which has entertained audiences across the country ever since.
Co-Creator Jaston Williams will direct this all new tour starring the fresh talent of Ryan Bailey, Tim Leavon and Will Mercer. Assisted by lightning-quick costume changes, the actors will portray all twenty-one characters: men, women, children and animals. This multi-award winning comedy is a funny, loving portrait of rural America -- big hearts, small minds and all.
According to Williams, "One of the things I am proudest of was Greater Tuna being named Play of the Century by Texas Monthly. Some people tend to think of the shows as an act for Joe Sears and myself, but the reality is that Greater Tuna is a seriously constructed play produced all over the country with other actors. I can say, I know these characters when I see them and I see them in this wonderful cast we have decided to work with."
This fresh new take on GREATER TUNA reunites several of the original design team to include costumes by Broadway designer Linda Fisher and sound design by Ken Huncovsky. The creative team is rounded out with lighting design by Ovation Award winner Luke Moyer and scenic design by Kennedy Center Fellowship recipient Travis Clark.
The tour will launch at the McAllen PAC in McAllen, TX March 21, 2017. The announced tour route includes Amarillo, TX: March 23, 2017; Lubbock, TX: March 24-25, 2017; Abilene, TX: March 26, 2017; Mt. Pleasant, TX: March 28, 2017; Ft. Worth: March 29-30, 2017; Conroe, TX: March 31, 2017; Broken Arrow, OK:April 1, 2017; Orange, TX: April 4, 2017; College Station, TX: April 6, 2017; Tyler, TX: April 7, 2017; Galveston, TX: April 8-9, 2017; Alto, NM: April 11, 2017; San Antonio, TX: April 13, 2017; Austin, TX: April 14-15, 2017; Midland, TX: April 19, 2017; Richardson, TX: April 21-22, 2017; Crockett, TX: April 23, 2017; The Villages, FL: April 26, 2017; and Fayetteville, AR: April 30, 2017. Additional dates announced at a later date.
For additional information, please visit your friends in Tuna at www.TunaTouring.com.
ABOUT THE PRODUCTION TEAM:
JASTON WILLIAMS (Co-Creator, Director) Jaston is known nationally as the co-author, co-star and producer of the four award-winning plays in the Greater Tuna cycle. His performances have played on and off Broadway at the Kennedy Center, the Edinburgh International Arts Festival, the Spoleto Festival U.S.A. and all over America. Jaston received the L.A. Dramalogue Award for both Greater Tuna and A Tuna Christmas. A Tuna Christmas was published in "Best Plays of 1995." For several years, he toured in Larry Shue's The Foreigner. He performed in The Fantasticks and directed the musical Bad Girls Upset By The Truth. Jaston received the Texas Governor's Award for Outstanding Contribution to the Arts by a Native Texan and has performed at the White House on three occasions. He has appeared at Austin's State Theatre in Eugene Ionesco's The Chairs and at ZACH Theatre in Jay Preston Allen's Tru, for which he received the Austin Critics Table Award for Best Actor in a drama. He has also appeared at the ZACH Theatre in The Laramie Project, Vanya and Sonia and Masha and Spike and A Christmas Carol. Jaston's autobiographical play, I'm Not Lying, was the first of his five solo shows, all receiving critical acclaim in performances across the country. The others are Cowboy Noises, Camping With Gasoline, Blame it on Valentine, Texas and his latest Maid Marian in a Stolen Car. Jaston has been seen recently with friends Joe Ely, Kimmie Rhodes, Jimmie Dale Gilmore and Jo Carol Pierce in their performance piece, Is There Life After Lubbock? as well as shared the stage with Lauren Lane in his new work A Wolverine Walks into a Bar. Jaston is the recipient of the 2013 Texas Medal of the Arts and has been inducted into the West Texas Walk of Fame.
KEN HUNCOVSKY (Sound Designer) The National Tours of ANN – The Ann Richards Play (& Broadway), Tuna Does Vegas, A Tuna Christmas (& Broadway), Red White And Tuna, and The Foreigner. Regional credits include: The Greater Austin High School Musical Theatre Awards, A Wolverine Walks Into A Bar, Blame It On Valentine, Texas, Tru, Camping With Gasoline, Cowboy Noises, Windblown, Hillbilly Heaven, Small Town Girl, Trail of Tears, A Funny Thing Happened On The Way To The Forum, The Cow Patty's, The Fantasticks, Peter Pan, The Wizard of Oz, The Chairs, and American Fiesta. Currently, Ken is the Production Supervisor at The Long Center for the Performing Arts in Austin.
LINDA FISHER (Costume Designer) created the original costumes for Greater Tuna first at Hartford Stage Company, then off-Broadway in 1982, and later for the Embassy Communications/Norman Lear Television special of Greater Tuna which aired on HBO. Her Broadway productions include A Tuna Christmas, Painting Churches, Bus Stop, Foxfire, and Morning's at Seven for which she later designed tours and the film version for CBS Cable. Other film/TV credits include Heart of Midnight, The Private History of a Campaign That Failed, and Pudd'n-head Wilson, as well as Rachel River for American Playhouse and The Final Verdict for TNT, the pilot for the short-lived NBC series Prince Street, and Stephen King's The Langoliers, an ABC miniseries. Ms. Fisher's other Off-Broadway credits consist of 52 productions at 19 theatres including the Manhattan Theatre Club, Playwright's Horizons, the Phoenix Theatre, The Roundabout, and American Place as well as several workshop productions for the New York Public Theatre. Regional credits include 132 productions at 28 theatres. A few regional theatres for which she has designed costumes are the Guthrie Theatre, Long Wharf Theatre, Arena Stage, Alaska Repertory Theatre, and the Williamstown and Berkshire Theatre Festivals. Ms. Fisher received her BFA in costume design from The University of Texas and completed her MFA from Yale University School of Drama. Union affiliations: United Scenic Artists Local 829 and Costume Designers Guild Local 892.
LUKE MOYER (Lighting Designer) Luke is the resident lighting designer for the NoHo Arts Center and Open at the Top, and his recent credits include Blame it on Valentine, Texas, Discord, The Light Bulb, One November Yankee, Red Room, Having it All Dracula (Ovation Award), Yo Ho Ho! A Pirates Christmas, East of Berlin, Departures, Pirates of Penzance, Feed, Jerusalem, Barnum, Elizabeth Rex (Ovation Award), Lizard, and the full staging of Angels In America. He is also the resident lighting designer for the American Academy of Dramatic Arts. Luke began his career at the Main Street Stage in Massachusetts where he designed PMS, Apartment 3A, Irma Vepp, and Collected Stories. He has designed many shows for The Company Rep including Six Degrees of Separation, Camino Real, Split, The Comedy of Errors, The Fantasticks, The Pension Grillparzer, Season's Greetings, Twelfth Night, Rosencrantz and Guildenstern are Dead, and Play Strindberg. More west coast credits include Deathtrap (Ovation Award), Shooting Star, Year Zero, Grace and Glory, All Night Strut, Celadine, A Long Christmas Ride Home, Recent Tragic Events, The Intern, The Last Pitch, Generator Girl, and Why's The Dog Howlin' Mama?
TRAVIS CLARK (Scenic Designer) Travis Clark is a recent graduate of Texas Tech University where he received his MFA in Theatre, with a focus on scenic design and technology. During his time at Texas Tech University he received multiple National Merit Awards, along with being the proud recipient of the National Kennedy Center American College Theatre Festival award for theatrical design excellence and fellowship in DC at the historic Kennedy Center. Travis also received the Don Childs Award from the Stage Craft Institute in Las Vegas. Before going to Tech, Travis was living in NYC working as a design consultant and lead artist for famed restaurateur Sam Wong along with working at regional theatres all over the North and Southeast as an assistant designer, scenic charge artist, scenic painter and actor technician. For five summers, Travis worked at the historic Lost Colony where he had the opportunity to collaborate and learn from some of the greatest theatre artist around and credits much of his success to his summers spent there. Travis received his BA in theatre from Morehead State University in Central Kentucky.
RIGHT ANGLE ENTERTAINMENT & A RISING TIDE THEATRICAL GROUP (Co-Producers)
Right Angle Entertainment is a production company specializing in the production, management and distribution of live theatrical and concert events. RAE has worked with diverse brands and companies such as NBC, FremantleMedia, Character Arts, Lucasfilm, DreamWorks Theatrical, S2BN, Ad Astra / For the Record and Cirque du Soleil Theatricals. Co-Founders Alison Spiriti and Justin Sudds have over 35 years collective experience in presenting on the road, managing artists, producing new work and love collaborating with their partners to bring the most innovative work to life on stage.
A Rising Tide Theatrical Group, LLC is a multi-faceted entertainment company founded in 2013 by Denton Yockey and Scott Galbraith who, together, have 70 years' experience in both non-profit and commercial theater. Inspired by the adage "a rising tide lifts all boats," A Rising Tide (ART) exists to lift audiences, artists, and producers alike. Most recently, ART aided the world premiere of the new musical Idaho! at The Smith Center in Las Vegas. Galbraith's career has included producing, presenting, venue operations, marketing, directing, and acting, and he was recently called upon to train emerging arts leaders in China. Yockey, whose background also includes acting, directing, teaching, and producing plays, musicals and children's theatre has run four not-for-profit theatres and overseen more than 300 productions.
ABOUT THE CAST:
Ryan H. Bailey, a native of Park Forest, IL, has been living in Texas since 1996, and currently resides in Fredericksburg, TX with his wife Tommie and daughter Rachel. He has been acting since his first year of college in 1994 at Lewis University near Joliet, IL, when as a student merely working in the theater scene shop, got caught playing the piano backstage one day and was asked to read for the younger lead role of Buddy in The Diviners, and he has been hooked ever since. Ryan has had no formal training, and since moving to Texas, he has performed in around three dozen community theater productions throughout the Hill Country area. Some favorite roles include Camille Chandebise in A Flea in her Ear, Max in Lend Me A Tenor, Smee in Peter Pan, Rapunzel's Prince in Into the Woods, Pharoah in Joseph and the Amazing Technicolor Dreamcoat, Feste in Shakespeare's Twelfth Night, Sancho in Man of La Mancha, Mortimer Brewster in Arsenic and Old Lace, Pseudolus in A Funny Thing Happened on the Way To The Forum, Wolfgang Amadeus Mozart in Amadeus, and most recently Garry Lejuene in Noises Off! Ryan has also played a variety of the roles originated by Jaston Williams in two separate productions each of Greater Tuna and A Tuna Christmas, the most recent ones being produced in 2015 at the Fredericksburg Theater Company. Additionally, Ryan enjoys nature photography, woodworking, playing piano, drawing, model building (basically anything artistic), and multiple other aspects of theater, including directing, light and set design/construction, musical direction, and original music composition for plays. Ryan is currently employed as a surgical technician at Hill Country Memorial Hospital in Fredericksburg, TX.
Tim Leavon is an American artist better known for his work as a stage and film actor. He first burst onto the stage as the Mischievous Monkey in his 2nd grade production of The Mighty Circus and has been essentially reprising that role ever since. After being unceremoniously removed from his high school theatre program and leaving The University of Montevallo without a BA in theatre, Tim found a home in the bustling theatre community of Birmingham, Alabama where he first appeared in Equus at Theatre Downtown, winning the award for Best Actor by the Hobo Awards for his role as Alan. He then went on to fortuitously appear in productions of Greater Tuna and Tuna Does Vegas at Terrific New Theatre under the legendary Carl W Stewart. He spent a year touring as a lead cast member with Birmingham Children's Theatre Company. Tim is also a cast member of Birmingham's premiere improv comedy group Ugly Baby with whom he has appeared at the Del Close Marathon in New York and the Spontaneous Combustion festival in Atlanta. He was also featured with Ugly Baby as one of 3 'Funniest People in Birmingham' in B-Metro Magazine. He then moved to Los Angeles to study the film industry, appearing as lead in films Roomies, Shepard, You Have Arrived, and Halloween Hell House. He can also be seen as lead in the Webseries Web-Camelot and L.A. Nites. He completed improvisational and character training at UCB West and Groundlings Theatre and has since returned to Alabama as their Native Son to start his production company Cool Beans who's first projects include We Are Frogs Now and Courtin' Carl.
Will Mercer grew up in Wimberley, TX, playing the piano and singing in church. As a High School student, Will was an active member of the Speech and Debate team, competing at the State and National level. Will attended Texas State University where he earned a BA and MA in Communication Studies. After college, Will spent 25 years in corporate America serving in leadership positions in the areas of Training and Development, Change Management, and Leadership Development. He now works for himself as an Organizational Development Consultant and Software Developer focusing on small and mid-size business. In addition, Will has taught in the Communication Studies department at Texas State University as an Adjunct Instructor for 28 years. Will was honored to receive the Outstanding Alumni Award from the department in 2009. Will has been performing in the vibrant Central Texas community theatre scene for many years. Some of his favorite roles include Wardell in Sordid Lives, Inspector Kemp in Young Frankenstein the Musical, and Clifton in Who's in Bed with the Butler. In 2015, Will had the opportunity to tackle Greater Tuna. Will first met these characters in 1985 as an audience member at the Paramount Theatre in Austin, TX. It was the first live, professional theater he had experienced. Needless to say, he fell in love with the theatre and the show. Playing Thurston, Elmer, Bertha, Yippy, Leonard, Pearl, R.R., Rev. Spikes, Sheriff Givens, and Hank resulted in Will receiving the 2015 Best Leading Actor in a Play (Comedy) from BroadwayWorld Austin. Will currently lives in Austin, TX, with his husband of 3 years. Will has two grown children who also live in Austin. He enjoys cooking, coffee, and making great theatre!