Auditions for Paramount STORY WRANGLERS to work with primary schools 2016-2017
The Paramount Story Wranglers is a troupe of actors, musicians and improvisers that take the original stories written by Austin-area third-graders and turn them into a hilarious, off-the-wall, wild and touching show (something like this). This is where you come in. The Story Wranglers are seeking ensemble members to join the group and help bring students' stories to life on stage.
Auditions will take place at the State Theatre on September 15 from 6-8pm. The audition is to join the ensemble, not for a particular show. Our 2016/17 season contains more than 12 shows over the next school year, so there are plenty of opportunities to get involved. Rehearsal periods last one week and performances are on Fridays during the day.
Actors will be paid a stipend at the end of the show. Males and actors of color are strongly encouraged to apply so our performance ensemble can more closely resemble the students we serve.
Email Mitch Harris with a headshot and resume to secure an audition slot.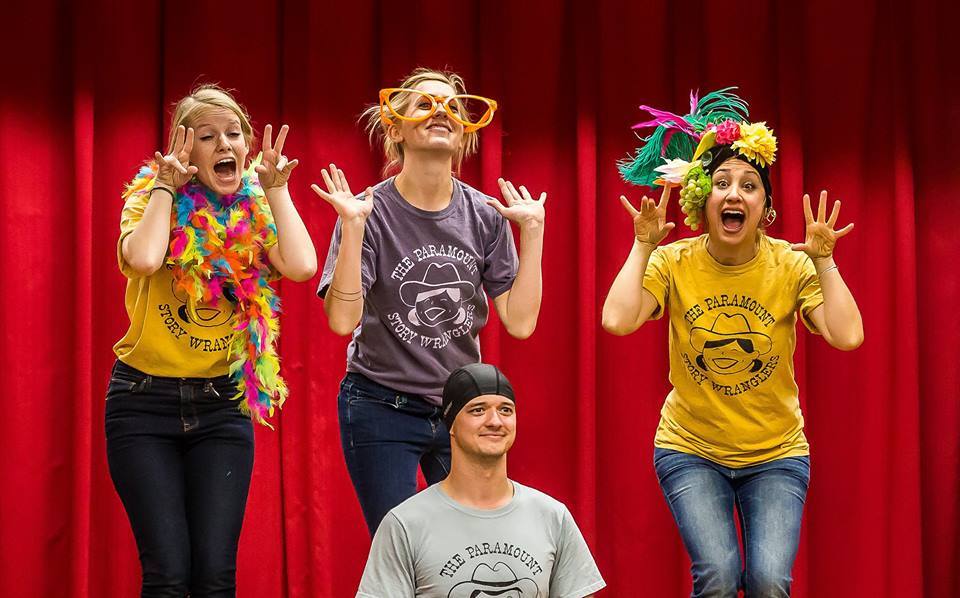 Organizational background: Built in 1915, the Paramount Theatre has served Austin for nearly a century now. It stands next door to the State Theatre, constructed in 1935. Together, as the Austin Theatre Alliance, these spaces are acoustically more intimate, visually more appealing, and historically more significant than just about any other theatre in the region. Both are contributing structures to the Congress Avenue National Historic District, and the Paramount Theatre is listed on the National Register of Historic Places. The Theatres continue to serve as anchors in the downtown area for performing arts events, film screenings, and our education and outreach programs. Artists like Harry Houdini, Katherine Hepburn, and Helen Hays graced the Paramount stage in its early days. The venues continue to remain relevant to the community with a contemporary line-up of stars such as Lyle Lovett, Sheryl Crow, and Dr. Maya Angelou. Each year, more than 200,000 people pass through our doors to take in first-rate performing arts events and films.
Our Mission: Inspired by the power of the arts to change lives, the Austin Theatre Alliance strives to engage all Central Texans through extraordinary live performances and films, to ignite the intellect and imagination of our youths, and to ensure the preservation of the historic Paramount & Stateside Theatres; the crown jewels of downtown Austin.
To this end, the Austin Theatre Alliance has maintained its longstanding commitment to provide access to the arts for all Central Texans. Through our Education & Outreach programming, formally organized in 2008, we impact more than 18,000 children annually, seventy-five percent of the students are from the low-income, Title I schools most in need of our support. Our programs give students the thrill of attending a live performance at our historic venues, engage them in their classrooms, and provide an important resource for teachers wishing to incorporate creative learning techniques into their pedagogy. In a time of steep budget cuts, there is no more cost-effective way for students to reap the benefits of a comprehensive, integrated arts education than through the collaboration between schools and our education and outreach programs.