DOLLY FEST by Mouth Radio at the Museum of Human Achievement, August 3, 2019
MouthRadio Presents…
DOLLY FEST 2019!
MouthRadio presents Dolly Fest 2019, a performance and party dedicated to Our Lady of titties and rhinestones, Dolly Parton.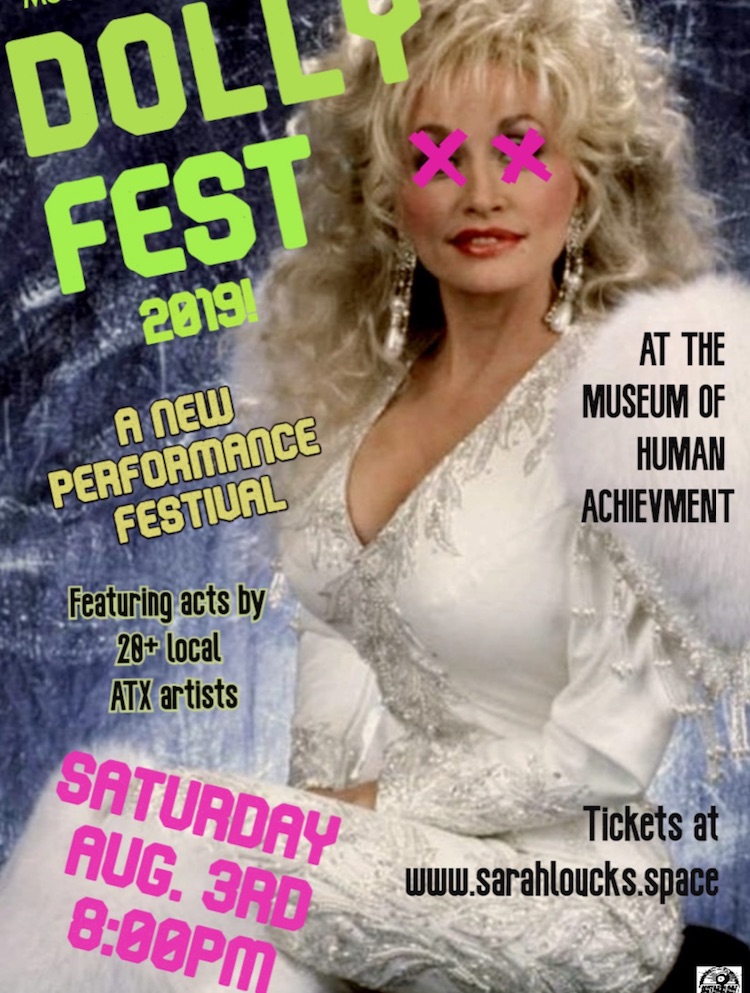 DOLLY fest kicks off at 8:00pm with a staged reading of a play titled Songs for Drunk Cowboys Who May Also Be Women. An Anti-Musical. (For Fools, Only). This new play by Sarah Loucks follows wannabe country singer Cheyenne and her chihuahua, Dolly Parton, on a country music tour dripping in Dr. Pepper and heartbreak. A camp philosophical remix, Songs for Drunk Cowboys examines gender and desire using the the melodramatic tropes of country music and the legacy of Dolly Parton.
Following the staged reading is KILL JOLENE: A KARAOKE PLAY. A Dolly Parton song cycle featuring the talents of 20 local Austin artists, KILL JOLENE: A KARAOKE PLAY explores Dolly's discography through a variety of artistic mediums from dance to video to drag performance.
The night will close out with a DJ set by Boi Orbison of Neon Rainbows: 90s Country Night.
Tickets are $10-$20 on a sliding scale. Reserve tickets here: www.sarahloucks.space
Saturday August 3rd: ONE NIGHT ONLY!
Staged Reading: 8:00 pm
Kill Jolene: A Karaoke Play: 9:00 pm-10:30 pm
DJ Boi Orbison: 10:30pm-12:00am
Sarah produces her plays and other nonsense under the name MouthRadio with collaborators from Austin, TX and beyond. MouthRadio creates weird, upsetting, joyful live performance with a focus on experimentation and underrepresented voices. Visit www.sarahloucks.space for more info.
Written by Sarah Loucks
Directed by Ann Marie Dorr
Sound Design by Keenan Hurley
Produced by Francesca Ghizzoni
Featuring: Jay Byrd, CB Goodman, Kedian Keohan, and many more!
DOLLY FEST INFO:
When: Saturday August 3rd 8:00pm-12:00am
Where: The Museum of Human Achievement
Tickets: Available at www.sarahloucks.space or 515-520-7632
Cost: $10-$20, sliding scale.
This project is supported in part by the Cultural Arts Division of the City of Austin Economic Development Department.