2018-2019 Season, Unity Theatre, Brenham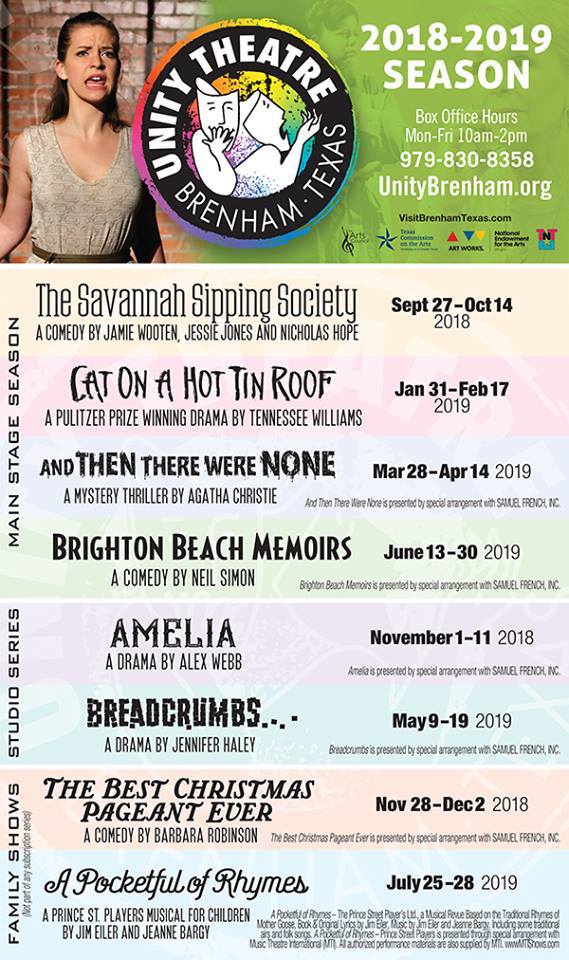 2018-2019 Main Stage Season

The Savannah Sipping Society
A Comedy by Jamie Wooten, Jessie Jones and Nicholas Hope
September 27 - October 14, 2018

In this delightful, laugh-a-minute comedy, four unique Southern women, all needing to escape the sameness of their day-to-day routines, are drawn together by Fate—and an impromptu happy hour—and decide it's high time to reclaim the enthusiasm for life they've lost through the years. Randa, a perfectionist and workaholic, is struggling to cope with a surprise career derailment; Dot, still reeling from her husband's recent demise and the loss of an idyllic retirement, faces the unsettling prospect of starting a new life from scratch; Marlafaye, a good ol' Texas gal, who has blasted into Savannah in the wake of losing her husband to a twenty-three-year-old dental hygienist; and Jinx, who offers her services as a much-needed life coach for these women. Over the course of six months, filled with laughter, hilarious misadventures, and lots of liquid refreshment, these middle-aged women successfully bond and find the confidence to jumpstart their new lives.


Cat on a Hot Tin Roof
A Drama by Tennessee Williams
January 31 - February 17, 2019

In the 1950's, in a plantation house in the Mississippi Delta, a family celebrates the sixty-fifth birthday of the patriarch Big Daddy but despite the festivities, the mood is somber. A number of evils poison the gaiety: greed, sins of the past and desperate, hopes for the future spar with one another as the knowledge that Big Daddy is dying slowly makes the rounds. Maggie, Big Daddy's daughter-in-law, wants to give him the news that she's finally become pregnant by Big Daddy's favorite son, Brick, but Brick won't cooperate in Maggie's plans and prefers to stay in a mild alcoholic haze the entire length of his visit. Maggie has her own interests at heart in wanting to become pregnant, but she also wants to make amends to Brick for an error in judgment that nearly cost her their marriage. Swarming around Maggie and Brick are their intrusive, conniving relatives, all eager to see Maggie put in her place and Brick tumbled from his position of most-beloved son.


And Then There Were None
A Mystery Thriller by Agatha Christie
March 28 - April 14, 2019

Eight total strangers are lured to a house on a remote island off the coast of Devon and find their host and hostess absent. Along with the staff, they are then marooned on the island by inclement weather and completely cut off from the outside world. One by one they are accused of murder; one by one they start to die. In this classic mystery, statuettes of little soldier boys on the mantel fall to the floor and break as one by one the guests are killed. A sinister nursery rhyme tells how each of the ten 'soldiers' met his death until there were none. One of Christie's darkest tales, set in the 1940's, this perfect combination of thriller and detective story will keep you guessing to the very end.


Brighton Beach Memoirs
A Comedy by Neil Simon
June 13 - June 30, 2019
This is part one of Neil Simon's autobiographical trilogy: a portrait of the writer as a young teen in 1937 living with his family in a crowded, lower middle-class Brooklyn walk-up. Eugene Jerome, standing in for the author, is the narrator and central character. Dreaming of baseball and girls, Eugene must cope with the mundane existence of his family life in Brooklyn: formidable mother, overworked father, and his worldly older brother Stanley. Throw into the mix his widowed Aunt Blanche, her two young (but rapidly maturing!) daughters and you have a recipe for hilarity. This bittersweet memoir evocatively captures the life of a struggling Jewish household where, as his father states "if you didn't have a problem, you wouldn't be living here."
2018-2019 Studio Series


Amelia
A Drama by Alex Webb
November 1 - November 11, 2018

Amelia is a heroic Civil War tale of one woman's search for her husband across the battlefields of America, a story revealing the dignity of the life of an ordinary person in an extraordinary time. An outspoken farmer's daughter, Amelia, marries a general store clerk who then heads off to fight with the Pennsylvania 20th to fight 'Johnny Reb'. When he stops writing to her she decides to find him, or find out what happened to him, and begins her journey across the war torn country, disguising herself as a man and ending up at the war's worst prison encampment, the notorious Andersonville Prison Camp.


Breadcrumbs
A Drama by Jennifer Haley
May 9 - May 19, 2019

In this powerful drama we meet two troubled women: Alida, a fiction writer in her 60s, and Beth, a nurse's aide in her late 20s, one of whom needs the other with a not-entirely-healthy urgency. Beth does her utmost to insinuate herself into the life of the famous Alida, a recluse who is battling the onset of Alzheimer's. We see episodes from Alida's childhood in several flashbacks, and the more we witness, the more disturbing become the parallel backgrounds of the two women – they are both lost in a strange forest in a perilous fairy tale, searching for breadcrumbs to find their way home.
2018-2019 Family Shows
(not part of any subscription package)
The Best Christmas Pageant Ever
A Comedy by Barbara Robinson
November 28 - December 2, 2018

The Herdman children are the worst kids in the history of the world - they lie, steal, swear, smoke cigars, and cause trouble wherever they go. Every year the Sunday school students put on a Christmas pageant but this year, bossy Mrs. Armstrong, the Christmas pageant's director, breaks her leg. She can't direct the pageant so Beth and Charlie Bradley's mom becomes the director. When all six Herdmans show up at Sunday school when she casts the show they change everything! The fun begins and they turn the pageant upside down but Mrs. Bradley is determined that the show must go on.


A Pocketful of Rhymes
A Prince St. Players Musical for children
July 25 - July 28, 2019

A fun, musical revue featuring some of Mother Goose's 'greatest hits'. Classic nursery rhymes are set to a catchy score and are told through a variety of styles of twentieth-century American music and tells the story of a thousand years of human civilization in music and rhyme.

Don't miss our final show of the 2017-2018 season!

Noises Off
A Comedy by Michael Frayn
June 14 – July 1, 2018
"The most dexterously realized comedy ever about putting on a comedy." New York Times. Winner of the Laurence Olivier Award for Best New Comedy and Tony nominated for Best Play, this is an uproarious depiction of what goes on (and what goes wrong) backstage during a theatrical performance. The play chronicles the rocky final dress rehearsal and subsequent disastrous performances of a farce called Nothing On. As the cast and crew of a third-rate touring company attempt to negotiate the farcical demands of the play-within-the-play — fast entrances and exits, cases of mistaken identity, clothing quickly doffed and donned — a hilarious parade of madcap backstage mishaps threatens to derail the proceedings altogether.

Circle Member reservations begin May 21st
Subscriber reservations begin May 29th
Tickets go on sale to the public on June 4th