2015-2016 Season at Unity Theatre, Brenham
Always, Patsy Cline by Ted Swindley
September 24 - October 11, 2015
See Rock City
by Arlene Hutton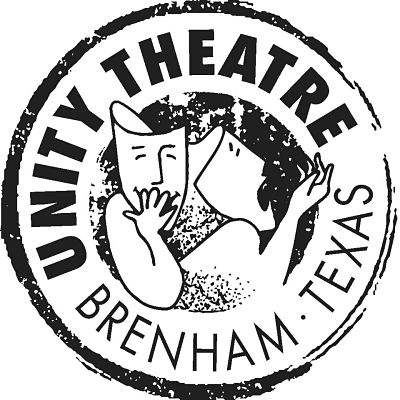 November 5 - 25
Miracle on 34th Street adapted from the novel by Valetine Davies
December 3 - 20, 2015
The Miss Firecracker Contest by Beth Henley
February 11 - 28, 2016
Jerry Finnegan's Sister by Jack Neary
April 7 - 17, 2016
Scapino! by Jim Dale and Frank Dunlop
June 2 - 19, 2016
Pinocchio by Carlo Colodi, adapted by Jim Eler and Jeanne Bargy
July 28 - 31, 2016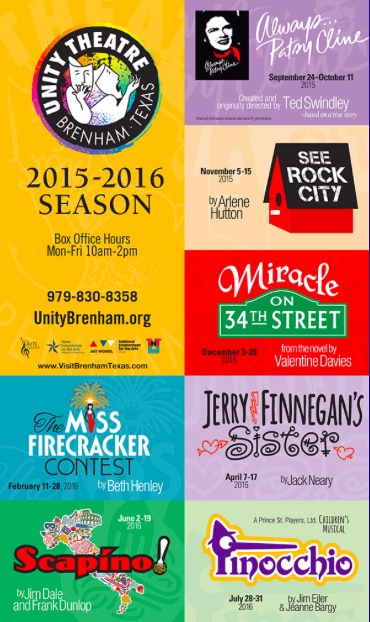 How to Subscribe:
*Call the Box Office at 979-830-8358 and subscribe over the phone.
*Click here to download the subscription form from our website, fill out the form, and mail it to 300 Church Street,
Brenham TX 77833.
*Swing by the theatre Monday-Friday between 9am and 5pm to fill out a subscription form.
Benefits:
-Save Money! 15% off Main Stage and 20% off Studio Series tickets.
-Additional tickets at subscriber pricing
-Priority seat selection
-Flexible ticket dates
-Special event notices
-Supporting Unity Theatre!
Cost:
Main Stage:
Individual $92
(1 ticket to each of 4 Main Stage plays)
Regular $184
(2 tickets to each of 4 Main Stage plays)
Family & Friends $368
(4 tickets to each of 4 Main Stage plays)
Studio Series:
(One admission to each of 2 Studio plays, only available to Main Stage subscribers) $40 per person