2015-2016 Austin Playhouse Season with Dates and Two Extra Productions
Announcing the 2015-2016 Austin Playhouse Season!
We're bringing you a full year of bold, brilliant, breathtaking productions that offer the best in live theatre.
Join us for innovative revivals of beloved classics, powerful new plays, hilarious comedies, and tons of special events.
Become a Season Subscriber today for the best seats
at the best prices. It's a season you don't want to miss!
Call 512-476-0084 or online here!
Already subscribed? Thank you!
Your subscription package will be mailed in August.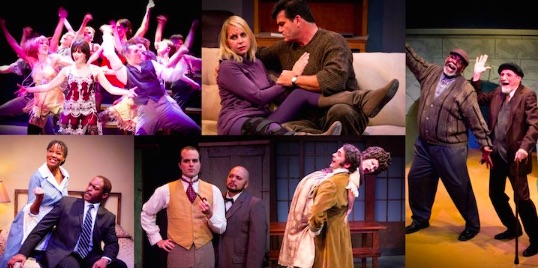 The Five-Play Subscription Season includes:
The Real Thing by Tom Stoppard
September 18 - October 11
Stoppard combines his characteristically brilliant wordplay and wit with flashes of insight that illuminate the nature--and the mystery--of love, creating a play that challenges the mind while searching out the innermost secrets of the heart.
The Philadelphia Story by Philip Barry
November 20 - December 20
A sophisticated, classic romantic comedy about a socialite whose second wedding is threatened by two tabloid reporters, a scandal, and an ex-husband.
Satchel Paige and the Kansas City Swing
by Trey Ellis and Ricardo Khan
February 12 - March 6
Satchel Paige is the king of baseball: a charismatic, superstar pitcher. But as Jackie Robinson wraps his first historic season in the majors, Paige finds his own fame eclipsed and his desire for greater respect increasingly frustrated by the barriers all around him. A story of passion and perseverance, this jazz-infused drama paints a vivid picture of America on the brink of great change.
The Explorers Club by Nell Benjamin
April 1 - May 1
London, 1879. The prestigious Explorers Club is in crisis: their acting president wants to admit a woman, and their bartender is terrible. True, this female candidate is brilliant, beautiful, but the decision to let in a woman could shake the very foundation of the British Empire, and how do you make such a decision without a decent drink? Grab your safety goggles for some very mad science involving deadly cobras, irate Irishmen and the occasional airship.
A Little Night Music
music and lyrics by Stephen Sondheim, book by Hugh Wheeler
May 27 - June 26
Witty and wildly romantic, a weekend country house in turn of the century Sweden, brings together surprising liaisons, long simmering passions and a taste of love's endless possibilities.
Plus, we have two amazing off-season productions!
Subscribers receive substantial discounts for these off-season plays.
The Norwegians by C. Denby Swanson
October 22 - November 10
A delightfully dark comedy about women scorned in Minnesota and the really, really nice gangsters--Norwegian hit men--they hire to whack their ex-boyfriends.
We're thrilled to present the Austin premiere of this new play by award-winning local playwright C. Denby Swanson!
Disgraced by Ayad Akhtar
January 8 - 31
Regional Premiere of the 2013 Pulitzer Prize award-winning play!
When a successful Pakistani-American lawyer and his artist wife host an intimate dinner party, what starts out as friendly conversation soon escalates into something far more damaging.
All titles are subject to change pending performance rights availability.
Become a Subscriber today!
A five-play season subscription gets you the lowest ticket prices, preferred seating, unlimited rescheduling, and discounts on guest tickets!
In addition, subscribers get discounted tickets and early bird reservations for our two off-season productions and other special events.
Call 512-476-0084 or online here!